Most owners want a nice website design for their businesses. After all, a company's website is often a potential customer's first impression of the business.
However, there's little point (and a big waste of money) to creating a beautiful site if not many will find it in search results.
Optimizing your site so that online search engines can find you is just as important as design elements and the right messaging. That's where SEO web design comes into play.
What Is SEO Web Design?
SEO, or search engine optimization, involves optimizing your website to potentially rank high in search engines like Google and Bing. 
Website design is the creation or development and design of a website. 
When used together, they create a website that is optimized for search engines.
How Should A Site Be Optimized?
A marketing agency should focus on two primary activities when using a SEO strategy:
On-page optimizations, such as your website building and content
Off-page optimizations like link building 
Both are necessary to rank well in search engines. For example, Google uses them to evaluate your website's credibility, relevance to a particular search and the quality of user experience.
The process of search engine optimization should begin with researching and analyzing your current website. Essentially, taking a look at how your website is performing.
An SEO marketing agency should also:
Perform a keyword analysis to see what keywords you are currently ranking for.
Look for keyword opportunities that you are not rankling for.Perform competitor keyword research to see if there are gaps in what they rank for and what you rank for.
Optimize items on your website, such as titles, meta descriptions, images and keywords to increase the effectiveness of search rankings. Determine whether the language on your website is clear, targeted and concise
Analyze how fast your website is and if it's secure
Take a look at backlinks and whether they are helpful to your website traffic
Provide you with regular SEO reports
Work with you to determine what results you can expect with the budget that you have
In addition to SEO, the best agencies will evaluate traffic analytics, or where your traffic (and your top competitors' traffic) currently comes from, how it arrives and how long it stays. Agencies should also incorporate heat maps into their analysis. These allow you to understand what's drawing visitors' eyes and where they spend their time so that you can optimize conversion rate (CRO) each page. 
SEO is a long-term strategy that delivers an excellent user experience while increasing credibility and relevance when done correctly.
How Should A Site Be Designed?
We know the importance of SEO when driving traffic to your website, but once potential clients get there, it's important to keep them there and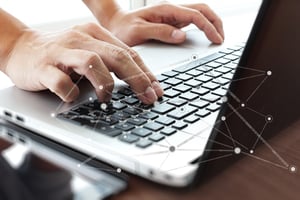 give them a user-friendly experience. 
The best web design company will:
Design your site for current computers, tablets and mobile devices
Create a user-friendly design that helps visitors find the information they need quickly
Ensure loading times are short (anything more than a few seconds for a page to load is too long)
In fact, to bring home that last point, a data study that Google commissioned found that decreasing mobile site load times by just 1/10 of a second saw major increases in conversion rates … more than 8% for retail sites and more than 10% for travel sites!
Designing a website should also include a focus on crafting messaging and creating content. Because this may not be included in a services company that ONLY offers web design, it's important to look for full-service marketing agency or inbound marketing agency that specializes in both design and content creation.
The goal of your website should be to engage  and convert visitors into leads. While web design and developers are experts in web programming, they may not have a broader knowledge of digital marketing, inbound marketing or content marketing. While your site may be designed beautifully, this lack of knowledge will not drive the right visitors to your website. For example, if you see a beautiful new car with the latest technology, design features and the sleek look you are looking for, but when you try to drive it, you find out it does not have an engine. That's the same as a website with no vistiors. You need a content engine to drive the right visitors to your website.
Based on your buyer persona, or ideal customer, an agency can create online materials like videos, blogs and offers that offer solutions to problems your customers have and allow you to capture potential customers' information for your sales team. 
Do I Need SEO Web Design?
YES! In order to ensure your website flawlessly runs, is designed attractively and efficiently, and can be found by search engines so that potential clients who need your services or products find you without too much difficulty. SEO web design is a must for any business with a website.
If that doesn't convince you, here are a few powerful stats from Hubspot that show what you are likely competing against: 
In 2021, there were more than 4.6 billion internet users worldwide.
Today, there are more than 1.8 billion websites.
A company's website is the No. 2 channel used in marketing, behind social media. 
Nearly 69% of marketers invested in SEO in 2021.
Nearly 64% of SEO marketers call mobile optimization an effective investment.
The average American has access to more than 10 connected devices in their household.
More than 73% of web designers say a non-responsive design is likely the top reason why visitors leave a site.
How To Choose An Agency For SEO Web Design
As we covered above, it's important to choose an agency that manages your whole online presence and makes sure all of your marketing efforts work together seamlessly.
When evaluating who you should work with, look for an agency that:
Has a proven process that it has applied with other small business clients like yours and gotten measurable results it can share
Asks you questions about your business, including what your goals are, who your audience is and what makes your business unique
Has long-time clients who they've been working with for years
Performs the same process for itself, showing that the agency believes in the process
Makes realistic promises, not solid revenue promises or search results guarantees
It's also important to warn businesses about "black hat" techniques. While these strategies can give your site some short-term gains, they ultimately cause harm to your website's domain authority. Black Hat SEO, otherwise known as spamdexing, is the deliberate manipulation of search engine indexing. 
Methods of spamdexing include keyword stuffing, inappropriate link building and the repeated use of phrases that aren't relevant to the services or products that you offer. 
If an agency you are considering boasts these techniques, walk the other way. The harm it produces to your website if often difficult and expensive to undo, if not impossible.
You can read more about what to look for in the best marketing agency in our article, How To Choose The Best Digital Marketing Agency For Your Business.