TrueRanker is an established Google SEO Rank Tracker. It has a powerful team of highly qualified developers that keep coming up with different features and utilities. You can improve your SEO strategy with efficient data on keyword positions in Google. With TrueRanker You can not only improve but also enhance your visibility of Goole Search. With this, you will be able to grow your business and also look out for potential clients. The Google Rank Checker of TrueRanker is amazing and free to try! If you want your business to grow and get established, then working with TrueRanker is one of the smartest things to do. Go through this review and check out all features and products in detail.
What is TrueRanker?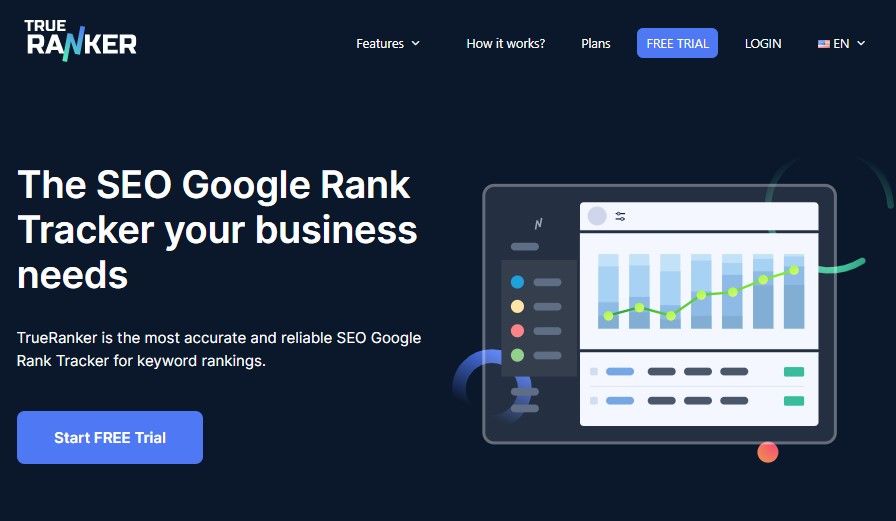 TrueRanker is an SEO Rank Tracker for Google. It is one thing that is the most important for any business that wants to grow online. TrueRanker is not only reliable but also the most accurate SEO Google Ranker for keyword rankings. It offers a free trial for those who are looking into it, before investing. You can target a better audience and keep a check on what they require. TrueRanker has one of the most advanced and high-efficiency tools. They will allow you to espy real Ranking of your projects on Google Search Engine. It serves a huge amount of more than 40,000 companies and has helped them establish and grow their business in no time.
How does TrueRanker work?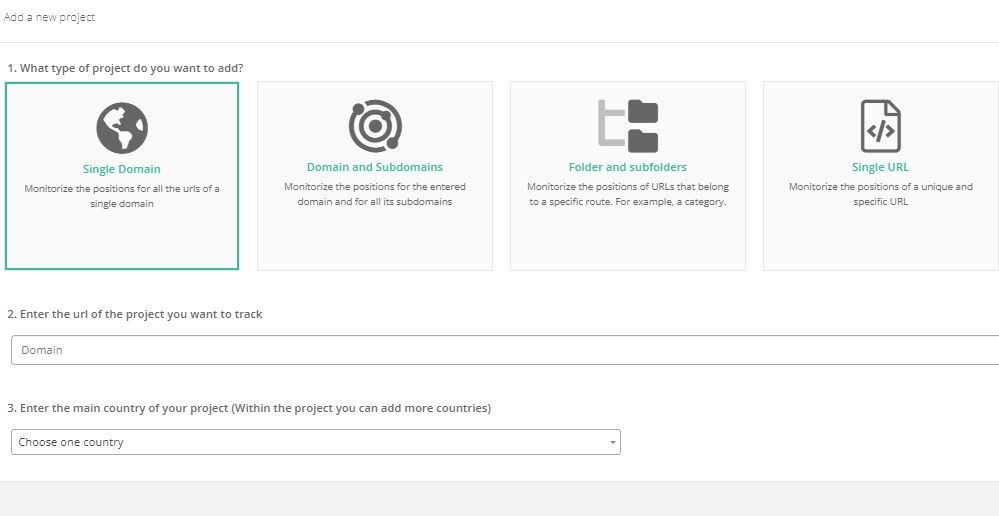 All you have to do is Create an account and get started.
After creating an account you have to create a project and
Type the URL or Domain.
Choose a country in which you want to work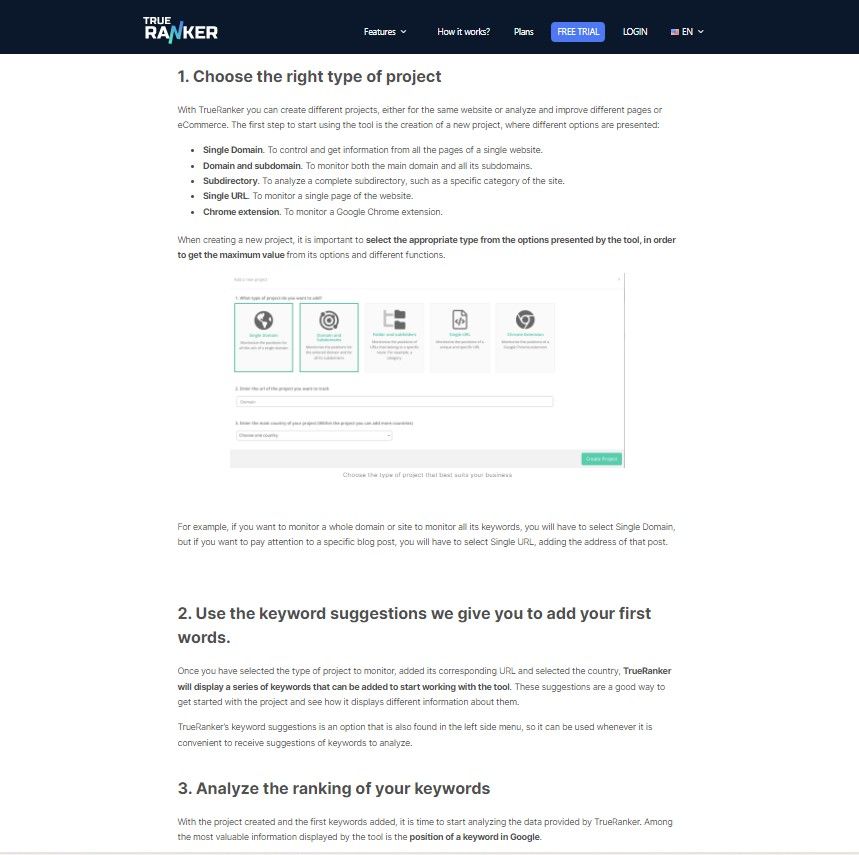 Here is a list of tools offered by TrueRankers and the procedure to use them:
SEO Local Rank Tracking Tool:

 Add a new project and enter the domain of your website.
 Add to the project the keywords that you have worked on locally and enter as the location, the city or town in which you want to check local positions.
With this you are done. Now you will be able to see the positions by which your local business ranks and its growth over the time.

SEO Tool for Chrome Extensions

You have to add a new Google Chrome Extension project.
Add to the project the keywords that you have worked on in the listing of your extension that you want to monitor, also searchh for the country in which you want to keep a look at them.
After this you are all set. Now you will be able to see the positions by which your extension ranks. Not only this but their evolution can be seen over time.

SEO Plugins for WordPress

You can use wordpress plugin of TrueRanker in order to know your ranking in Google. It is easy to use Plugins in TrueRanker.
It can be downloaded from the official WordPress plugin repository.
The other way to downloadis by searching "TrueRanker"  in your own WordPress Administration panel in the section to add a new plugin.
Tools by TrueRanker
There are three major tools offered by Trueranker that will help you to get at the top of SEO Ranking by Google. These are simple to work with and are highly useful. Working with these tools will not only help you to grow your business but also allow you to enhance your SEO strategy depending on different projects. Moreover, with these tools, you can check for your competitor's keywords suggestion and work accordingly. These can be tried for free. The three tools for TrueRanker includes:
SEO Local Rank Tracking Tool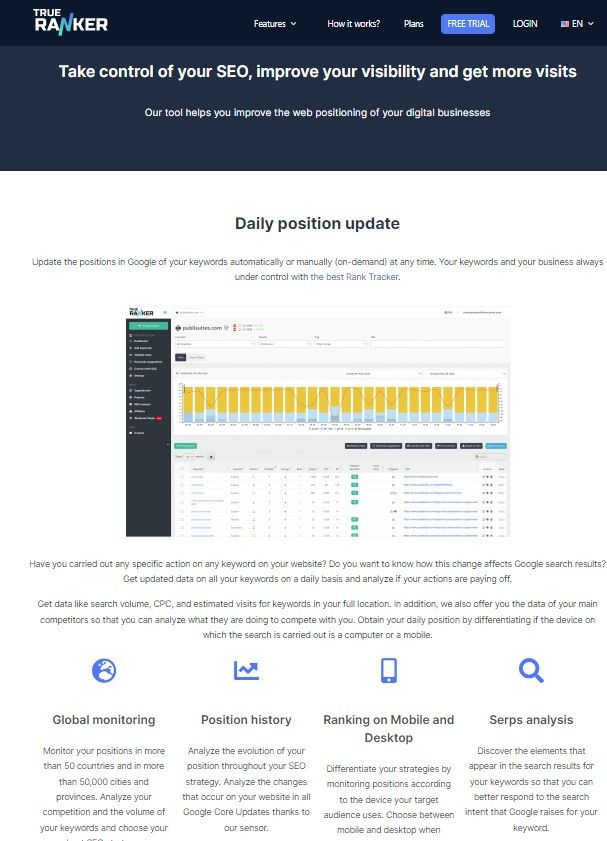 The SEO Local Rank Tracking Tool is a tool that will help you to position your website in your area, where you offer your services. It will ensure Local SEO strategy is at the point and help you get recognized in your local domain. You can keep a check if your Google My Business listing shows up in Google search results. Moreover, you will also get all the necessary information that is required for your business in your local area and also allow you to track other competitor local businesses in your area. SEO Local Rank Tracker tool offered by TrueTanker has various benefits to offer further. These include:
Limitless Domain:  You can create all the local projects you want with no limitations.
Immense clients: It allows you to share the project in real-time with the unlimited people.
Unlimited emails: You can send daily, weekly or monthly reports to various clients easily.
SEO tools for Chrome Extensions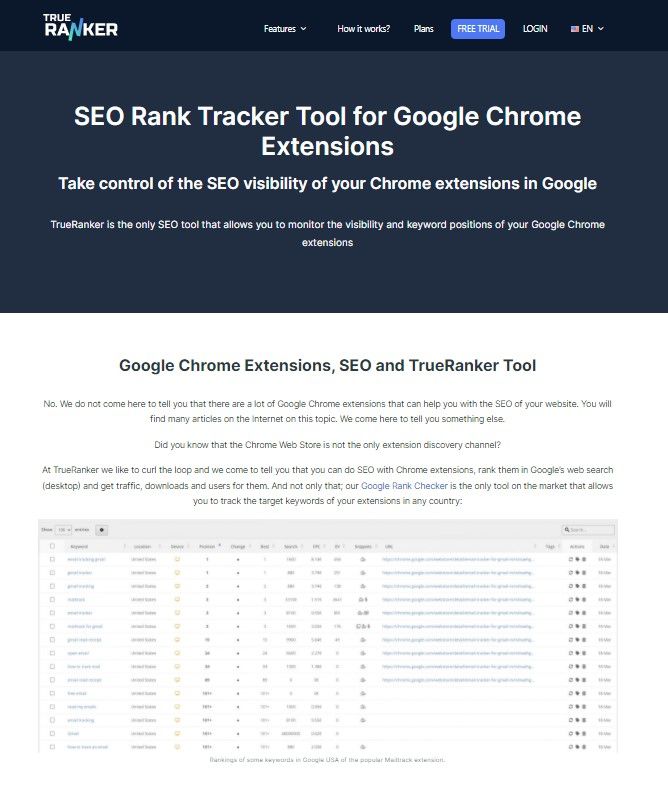 Instead of listing the number of Google Chrome Extensions, here you will know that Chrome Web Store is not the only extension discovery channel. TrueRanker allows you to do chrome extensions and then rank them in Google's Web Search. TrueRanker allows you to get downloads, traffic for your web page and also get users for them. Not just this, TrueRanker also offers you the Google Rank Checker. It is the only tool in the whole marker which allows you to keep a track of the target keywords of your extensions in any country.
SEO Plugins for WordPress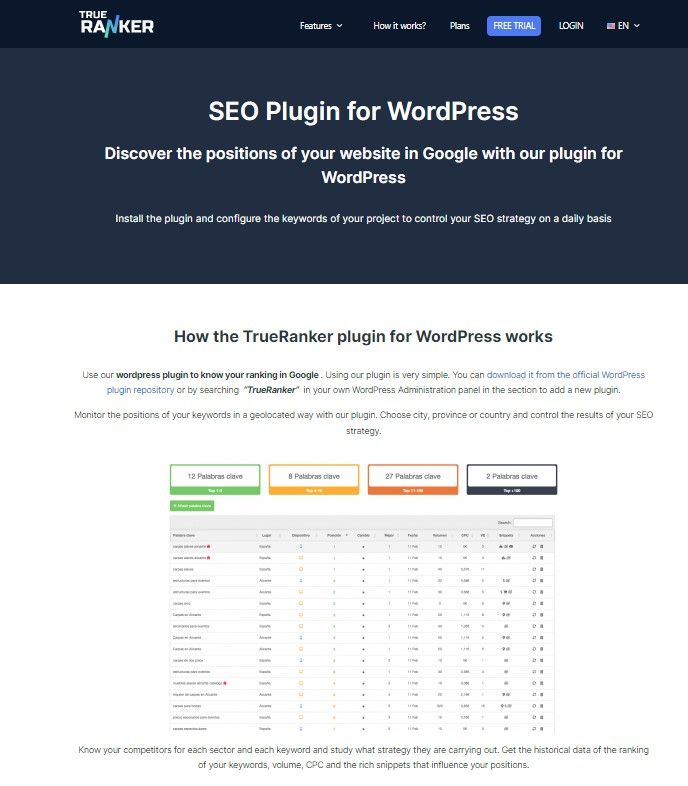 SEO Plugin is not just a plugin, it offers a lot to its users. You can analyze your positions from anywhere around the world and also detects cannibalizations to get suggestions for your keywords that are difficult to detect. The main objective of TrueRanker is to get traffic for your website which can be easily done with data and knowledge provided by TrueRanker's SEO Plugin tool. You can know your competitors for every section and every keyword as well. It will help you to know their SEO strategy. Not only this but you also get previous data of ranking of your keywords, CPC, volume as well as rich snippets to upgrade your positions.
TrueRanker Features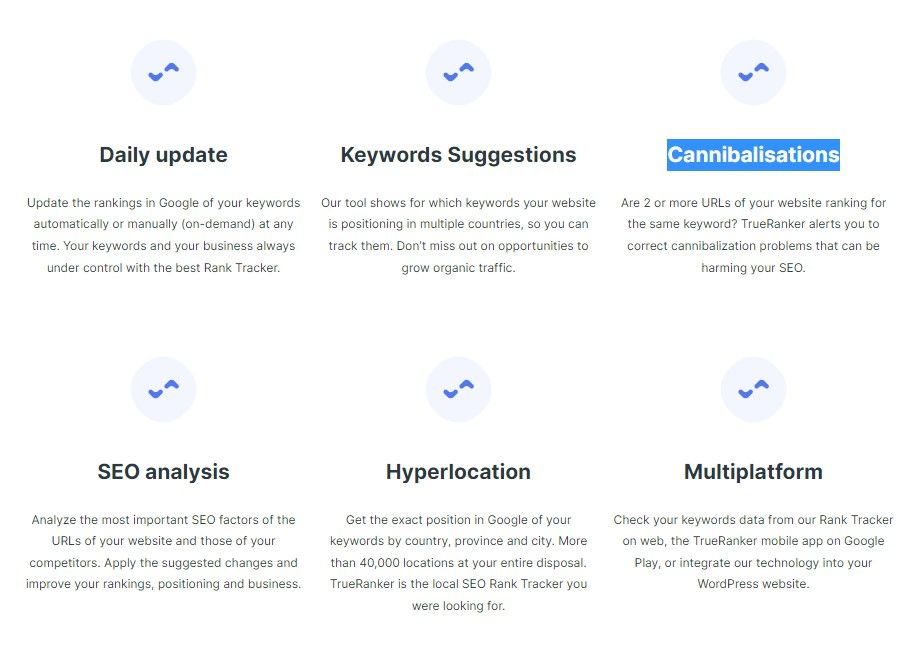 Daily update
You can update the rankings in Google of your keywords automatically or manually (on-demand) at any time. Your keywords and your business are always under control with the best Rank Tracker on this website.
Keywords Suggestions
The tool shows for which keywords your website is positioning in various countries, for you to track them. You do not have to miss this opportunity of getting traffic for your website.
SEO analysis
SEO Analysis is the most important SEO factor of the URLs of your website and those of your competitors. You can apply the suggested changes and also improve your rankings, positioning as well as business.
HyperLocation
With HyperLocation you can get the exact position in Google of your keywords by country, province, and even city. There are more than 40,000 locations at your entire disposal.
Cannibalisations
TrueRanker will alert you to correct cannibalization problems that may harm your SEO.
Multiplatform
It will allow you to check your keywords data from TrueRanker's Rank Tracker on the web. The TrueRanker mobile app on Google Play, or integrate our technology into your WordPress website.
Pros of TrueRanker
There are a huge number of benefits that come along with Trueranker. Some of these pros of using TrueRanker are as listed:
100% SEO Monitoring
Allows you to choose the country or city for better accuracy
Provides with a 14-day free trial which can be withdrawn any time
Suggests accurate keywords according to area selected
Makes it easy to compare with other competitors
Cons of TrueRanker
It is a perfect tool for your website and will stand out against any problem you might be facing.
TrueRanker Pricing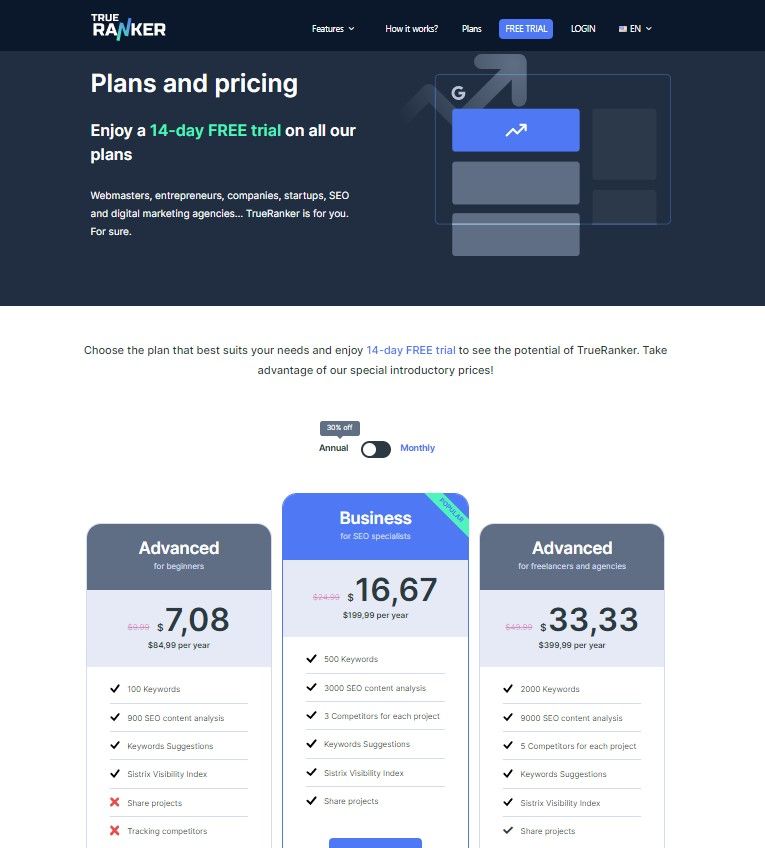 You can enjoy a full 14- day free trial at TrueRanker and know if this software is suitable for your website. If you are a new online businessman and want to grow your business without having to do a lot, then TrueRanker is a great choice. It offers different plans according to the need of the customer. It may vary according to the business as well, so if you are a beginner or a specialist then the plans offered may vary according to the features required. The features that are included in all plans are:
Unlimited domains
Cannibalisations
Results in Local Pack
Related Searches
Integration with GSC
Positions history
Serps data
Volume, CPC
Keyword Trends
Featured snippets
All the plans and pricing listed below offer a great deal and also gives a free trial:
Advanced for Beginners:
Price – $7,80 ($84 per year)

 100 Keywords
 900 SEO content analysis
 Keywords Suggestions
 Sistrix Visibility Index
Business for SEO Specialist:
Price – $16,67 ($199,99 per year)

500 Keywords
3000 SEO content analysis
3 Competitors for each project
Keywords Suggestions
Sistrix Visibility Index
Share projects
Advanced for Freelancers and Agencies
Price – $33,33 ($399,99 per year)

 2000 Keywords
 9000 SEO content analysis
 5 Competitors for each project
 Keywords Suggestions
 Sistrix Visibility Index
 Share projects
Alternatives of TrueRanker
SEMrush
SEMrush is not only a rank tracking tool but a complete SEO solution where you can do overall competitive research and organic research. With the help of SEMrush, you can marginally reduce your cost and effort by strengthening the data. It allows you to track the ranking and it updates data very frequently which is quite accurate. One can change locations and justify the filters to achieve the required table for export. It is a genuine, useful but costly alternative to TrueRanker. But if purchased, it can be an alternative to many other tools in the SEO industry for sure.
Screpy
Screpy is a new and advanced tool and they call it an AI-based rank tracking tool. This data-driven tool focuses on many other things such as syntax errors, page optimizations, page speed insights, uptime monitoring, and a lot more. With Screpy one can add the keywords and monitor the ups and downs frequently.
SERPwatch
SERPwatch is one of my favorite tools when it comes to Rank tracking. This tool is best in the business of Rank Tracking. It genuinely solves the issue and gives you even notifications as your keywords are moving up or down. It is highly useful software with tons of features and all correlated to Search engine rank tracking.
RankTracker
RankTracker is another Rank Tracking software through which one can monitor the rank for various keywords. Just add projects, keywords in them and start monitoring the ranks. This software has a clean and sophisticated UI which makes it pleasant to work and get results.
SE Ranking
SE Ranking is one of the top 3 alternatives you can find for TrueRanker. It is an all cloud-based platform that works well for online marketing professionals. It comes with various tools such as backlink monitoring, competitor analysis, comprehensive site audit, and a lot more.
AccuRanker
AccuRanker is another alternative. As its name sounds similar to TrueRanker so are its features. If you go on to look at the features offered by AccuRanker, you will them similar to that of TrueRanker. It offers its users instant on-demand updates, SERP history, keyword suggestions with accuracy, and more.
SEO PowerSuite
SEO PowerSuite is an amazing ranker website that comes with a bunch of great features. It includes backlinks and site audits for best optimization and stands out among various other sites. These powerful features make your work easy as well as effortless.
Get TrueRanker for Lifetime with Unlimited Projects
TrueRanker FAQs
Why to use TrueRanker's Google Rank Checker?
No one knows how the world's topmost search engine works. However, the TrueRanker team has experience of 15 years and have managed to get organic traffic in million for different websites. TrueRanker is the Google Rank Checker that will help you in everyday work, and you can use yourself to track your SEO performance and grow organic traffic. It is a reliable SEO tool with more than 40,0000 keywords for different devices (Desktop + Mobile) and discovers new ones that you had not detected, analyze the On-Page and Page Speed optimization of any URL on your website, and have under control the visibility of your domain, among other things.
Why should you track the positions of your keywords?
The main objective of SEO is to generate traffic/visits to a website from search engines (Google, Bing, Yahoo, etc.) by positioning keywords in search results. The better positions the keywords of a project have, the more organic traffic you will get. IMPORTANT: more visits = more business. That is why it is vitally important to monitor the positioning of the keywords of a project. This allows us to know the trend of the project, to understand if the SEO strategy and tactics are working, or if a filter or penalty has been applied. In addition, for local businesses, being able to see the actual rankings by city or province is extremely important.
Before We End
Here at the conclusion, we have a detailed description and various reasons to use TrueRanker. It is a great tool plus a deal that will help you grow traffic for your website and automatically generate potential clients to help grow your business. You can try this tool for free and know if you actually are satisfied, which you surely will be. Though there are many such tools in the market, but Trueranker can definitely be a game changer. It is very nice designed and has almost all the features that one may expect.
The Review

TrueRanker

PROS
100% SEO Monitoring
Allows you to choose the country or city for better accuracy
Provides with a 14-day free trial which can be withdrawn any time
Suggests accurate keywords according to area selected
Makes it easy to compare with other competitors
Review Breakdown
Easy To Use


0%

Features


0%

User Interface


0%

Integration


0%

Support


0%

Brand Trust


0%

Value for Money


0%

Compatibility


0%

Data Accuracy


0%

Usability


0%