If you're looking to increase your online presence, you've likely heard of digital marketing.
But what is digital marketing, and can it really help your business?
Let's take a look at the fundamentals behind digital marketing, why it's important today and whether a digital marketing strategy can help your business grow.
What Is Digital Marketing?
Digital marketing is any form of marketing that exists online.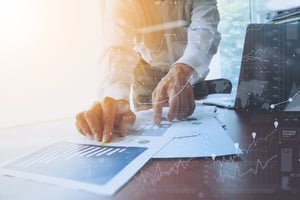 Also called online marketing, digital marketing utilizes channels like search engines, social media, email and websites to connect with current and prospective customers. 
Each digital marketing campaign should look unique and reflect the goals of that business. Depending on these goals, digital marketers can support a larger campaign through free and paid channels.
You're likely pressed to think of a business that doesn't have a website, but you may be surprised to know that recent data shows a whopping 28% of small businesses don't have a site. Even among the 72% of businesses that do, whether those sites are optimized to generate traffic, feature a cartoon of a worker holding a sign that says "under construction," or fall somewhere in between is a whole other story.
One thing is for sure … your customers expect you to have a website and rely on it to learn about your brand. Consumers are more informed and empowered than ever, and it's important that your business has a system in place to help those consumers find you. Digital marketing is vital for your company and your brand.
Why Is Digital Marketing Important?
Digital marketing helps you reach your target audience who are more likely to buy your product or service. Certain businesses still throw money at billboard advertisements, newspaper ads and radio spots with the hope that someone who may be interested in your product or service will see or hear your promotion. But this ususally requires you to throw at a lot of money at it with little ROI or even the ability to track your ROI with certain services.
Today, these outbound marketing methods are not only outdated, they're usually ineffective. Instead, inbound digital marketing methods focus on allowing customers to find you. And when they do, they will go through an process that nurtures them based on where they are in their buyer's journey. 
Digital marketing also allows you to:
Measure success and pivot as needed
Focus your efforts ONLY on the prospects who are likely to become customers
Improve the quality of your leads and improve conversion rates
Engage audiences at every stage 
Because digital marketing allows you to measure the success of your marketing methods, it's more cost-effective than outbound marketing methods. If a certain channel or strategy isn't demonstrating a high return on investment (ROI), you can adjust your next move. You also have complete control over where you spend your money.
Types Of Digital Marketing
While digital marketing encompasses any form of marketing that takes place online, there are several specific types of marketing that some businesses may choose to utilize over others. Here are some of the most popular types of digital marketing used today:
Content marketing: This type of marketing includes blogs, ebooks, white papers and even podcasts. This approach helps you identify, attract and cultivate the right people … your future customers. Blogging is one of the single most effective tools to help attract the customers you want and to provide real solutions.
SEO marketing: This approach uses SEO, or search engine optimization, to improve your site and increase its visibility when people search for products or services related to your business on Google, Bing or other search engine sites.
Social media marketing: This uses popular social media sites like Facebook, Twitter and LinkedIn to promote your business. However, it's important that you use the right channels for your business. While some business thrive using sites like Pinterest or Instagram, others perform better on sites like LinkedIn.
Email marketing: Email marketing can be a targeted approach to reaching potential customers. It's also a great tool in following up with potential customers by emailing valuable content, which can help close deals, and for nurturing current customers. Examples include blog subscription newsletters and holiday promotions to loyal customers.
Pay-per-click marketing: Also called paid search, this involves placing your ad where your customers are searching. Google AdWords is the world's largest and most popular pay-per-click advertising platform. The hope for this marketing approach is that your ad is displayed alongside relevant search results. Each time a user clicks on the ad, you are charged a certain amount of money, hence "pay per click."
In addition to these digital marketing types above, it's important to mention inbound marketing. What is inbound marketing? Inbound marketing refers to a marketing methodology where you attract, engage and delight customers along their buyers' journeys. 
An inbound marketing agency will build a personalized strategy that ensures customers find you by:
Attracting the right audience with the right content at the right time
Converting casual content consumption into a more trusting relationship, which generally includes acquiring contact information so you can more efficiently deliver the right content through segmentation
Closing sales qualified leads who are ready to buy now and do so
Delighting current customers by delivering valuable content that increases loyalty and retention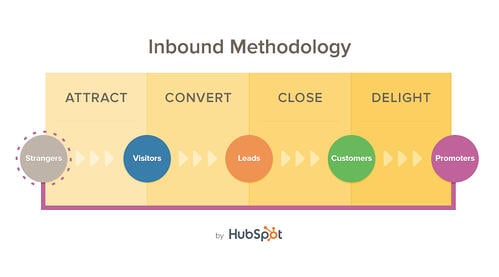 What Does A Digital Marketing Agency Do?
Digital marketing companies drive brand awareness and lead generation by utilizing digital channels, both free and paid. These channels include:
Social media

Company website

Search engine rankings

Email

Display advertising

Company's blog
The best digital marketing agencies will use a combination of marketing methods, including an inbound methodology, to accomplish this IF it's right for the business. Inbound marketing may not be the best option if you have a product priced less than $500 per purchase. Inbound is not the best option if your product requires no education to purchase as well. 
Initially, a digital marketing agency will work with you to determine your ideal customer so that a customized plan can be developed. Identifying your ideal customer, or buyer persona, is essential when establishing your goals since understanding your target audience in great detail helps you create useful and relevant content.
Our article, Buyer Persona | What Are They And Why Do I Need Them?, further dives into what type of information you need when determining your ideal customer.
Engaging content that is designed to reach your buyer persona may include:
Blog articles
Videos
Images
Buyers' guides
eBooks
Checklists
These tools offer excellent value on your website. When done consistently, blogging in particular, is a key source of traffic to your site. Every time you publish a blog, you provide an opportunity for your prospects to find you.
A digital marketing agency should also designate one of your content pieces, such as an eBook, as the primary offer on your website. An offer is a piece of content that is perceived by a potential client to be high in value. Providing this piece of content offers a path toward solving a problem.
Important note: This content offer should have its own landing page on your website. Landing pages allow you to capture information about the prospect in exchange for the offer.
To get potential customers to the landing page, a digital marketing agency will use calls-to-action, or CTAs, on your other website pages or in the content you create, such as blogs, emails and videos. Customers who click on the CTAs are taken directly to the landing page.
A digital marketing agency will then integrate a social media strategy to share this content. Remember, you want to go where your clients are, whether that's Facebook, LinkedIn, Pinterest, Instagram, Twitter or another site.
How Do Digital Marketing Agencies Track Progress?
Key performance indicators (KPI) are quantifiable measurements or data points used to gauge your company's performance relative to a goal. A digital marketing company will help identify key performance indicators you should be tracking.
Determining which indicators you should use often is based on the questions a marketing agency asks you when getting to know your company: 
What are your company goals? 
Which major areas do you want to improve? 
What are your biggest priorities?
Working with a digital marketing agency that focuses on a few key metrics is important. An agency that tracks too many KPIs can lose focus and wander off your marketing plan. For example, you may have had success in boosting how many Facebook likes your posts or page have received. However, this KPI alone doesn't help you understand if your revenue goals will be hit for the quarter.
Potential agencies you are considering may also have some favorite KPIs that they like to track, such as the number of customers acquired or cost per acquisition. However, depending on your goals and the stage that your company is in, some key indicators will be more important than others. 
Key performance indicators should evolve as goals are met and new goals are formed.
Tips For A Successful Digital Marketing Strategy
When beginning a digital marketing strategy, it can feel overwhelming with all of the options available to you. The right digital marketing agency will help you develop a strategy tailored to your business and its goals. 
That's why goal-setting is one of the most important keys to a successful marketing strategy. It's critical to begin by identifying and defining your goals since the strategy you design will be based on them.
Once you have identified these goals and determined your target audience, here are some additional tips that will help you implement a successful digital marketing strategy:
Establish a budget for each digital channel you use. 
Balance your paid and free digital strategies.
Create interesting and engaging content that you can promote.
Optimize your digital ads, web pages, social media images and other digital assets for mobile devices.
Conduct keyword searches to identify high-performing keywords related to your product or service.
Adjust to what your analytics tell you.
Finally, a successful digital marketing strategy is often implemented by a successful digital marketing agency. The best digital marketing companies have proven processes … often processes they use themselves in their own digital marketing strategies. 
Look for a company that can share these measurable results and then make realistic promises on what they can do for your company. A digital marketing agency will help you understand what is needed to achieve your goals … and then help you get there.