The Samsung Galaxy Watch 5 has finally been announced, a year on from the Watch 4 – this is Samsung's latest premium smartwatch, which debuted at the brand's late-2022 Galaxy Unpacked event.
Launched alongside a premium Galaxy Watch 5 Pro, this wearable builds on its predecessor with improvements to health insights, and a more premium design that should protect the watch better.
We've posted our hands on: Samsung Galaxy Watch 5 review so stay tuned as to when we can tell you right now whether it's set to join the annals of the best smartwatches you can buy.
Cut to the chase
What is it? The next high-end Samsung smartwatch
When is it out? August 26
How much will it cost? Starts at $279.99 / £269 / AU$499 
Samsung Galaxy Watch 5 price and availability
After launching after the Unpacked on August 10, the Samsung Galaxy Watch 5 release date is set (both digitally and physically) for August 26. Pre-orders are live now, and will run until then. You can check out all the best Samsung Galaxy Watch 5 pre-order deals right here.
In terms of price, it's a little tricky, as there are a few different configurations. You can pick up the watch with or without cellular connection, in 40mm or 44mm sizes – see below for the full breakdown.
Samsung Galaxy Watch 5 prices

| | | |
| --- | --- | --- |
| | Bluetooth | Bluetooth / LTE |
| 40mm | $279 / £269 / AU$499 | $329 / £319 / AU$599 |
| 44mm | $? / £289 / AU$549 | $? / £339 / AU$649 |
As you can probably tell, we haven't received prices for every model in all regions just yet, but we'll update this article as soon as we find them out.
Samsung Galaxy Watch 5 design and display
You're not exactly going to find the Samsung Galaxy Watch 5 hugely different, design-wise, from its predecessor. Here are two pictures to compare:
So it's a similar appearance with the body and the band, but looks aren't everything. This watch uses a more hardy material, including a sapphire crystal in the screen, and Samsung says it's 60% more scratch resistant than its predecessor.
As we've mentioned, you can pick up the device in 40mm and 44mm builds, and the screen and battery size are the main differences between the two, as they're obviously bigger on the latter.
Samsung Galaxy Watch 5 battery
The Galaxy Watch 5 has a larger battery than its predecessor, at 15% bigger than the Galaxy Watch 4. Whether this will bear out as longer battery life, or the internal spec updates mean it'll draw more power, remain to be seen – we're looking forward to giving this a really thorough test.
The Galaxy Watch 5 Pro has got a whopping 590mAh battery inside though, so if you're looking for the device that can go for many days without charging, you should check that one out.
The device will charge with a proprietary magnetic pin charger that you'll be able to connect to a USB cable.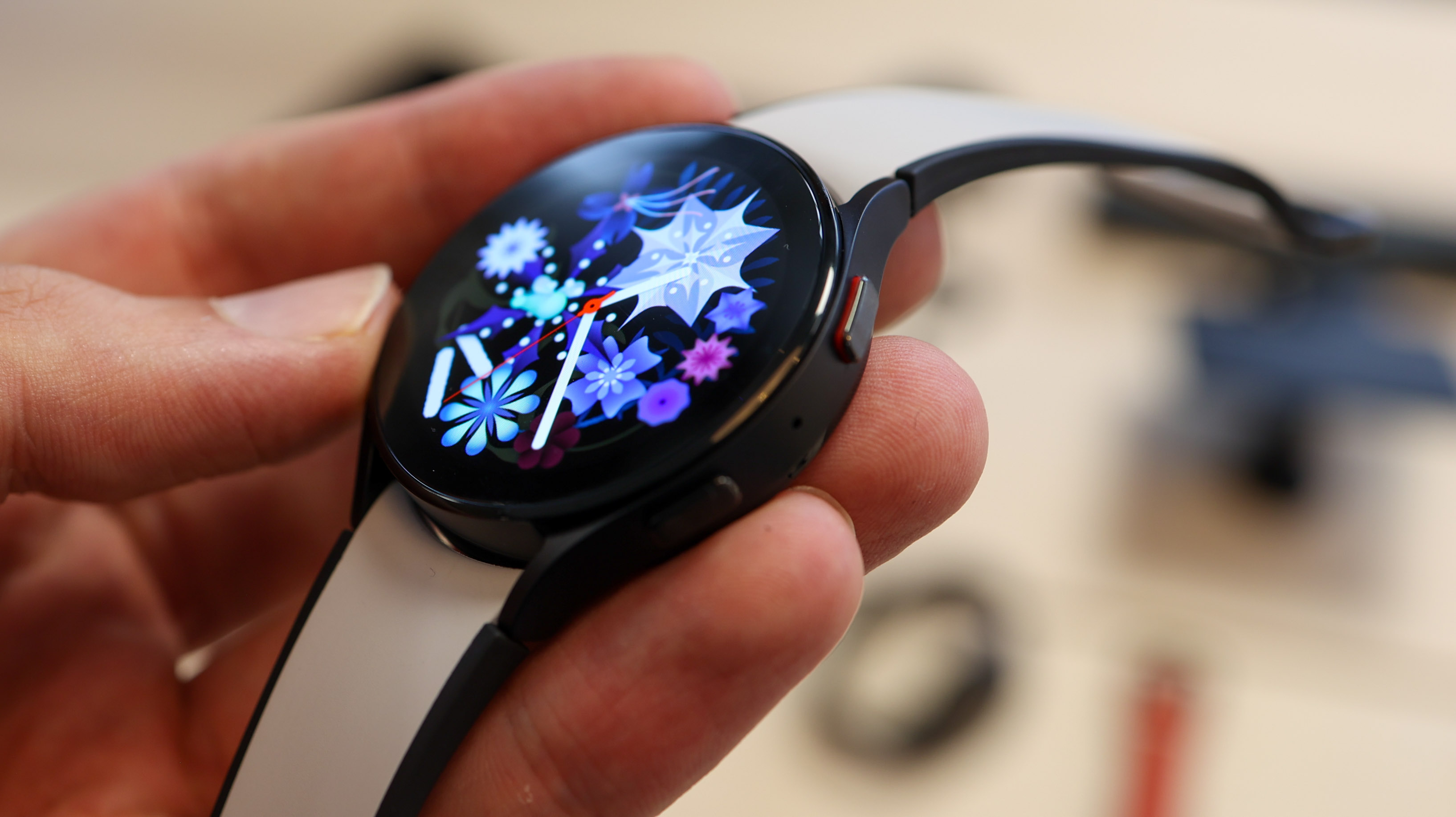 Samsung Galaxy Watch 5 specs and features
The main Samsung Galaxy Watch 5 feature is that it's seen some health improvements over its predecessor, primarily in the sleep department.
Samsung has improved the sleep tracking functions of its watch, and the device will now offer you guidance on how to get a better night of sleep. This includes a month-long sleep plan, and the watch will also assign you a sleep style to better understand how you tick.
There have been improvements into health insights across the board. Samsung surprised us a bit with advanced body temperature monitoring. It says the Watch 5 will be able to monitor body temp intelligently, even when the ambient temperature changes… however, these features won't land properly for a few months, presumably due to some medical confirmation reasons, although we're a bit perplexed as to why.
Some intriguing Watch 4 features are back, like body mass index and body composition monitoring, and of course, there are a range of fitness tracking modes for things like running, walking and cycling.
The wearable runs on Google's Watch OS 3, built in collaboration with Samsung, so it includes apps from both companies (like the Play Store from Google and Samsung Pay from… you can guess).