I couldn't help myself – I pulled the trigger and impulse bought an Asus Zephyrus G14 the day it became available at Best Buy.  It seriously looked like everything I wanted and the price was decent.
Yes, this is the same laptop that Andrei reviewed a couple of months ago.  Only my model is the lower-end Zephyrus G14 GA402RJ version.  Take "lower-end" with a grain of salt though, because this laptop is still very powerful.  But on a much more positive note, I think the value you get with my model is much better than the model most of the tech reviewers were getting (the GA402RK variant).
So do I have any regrets?  Put simply: no!  After a month, I still think this laptop is a solid contender.  It may not be as inexpensive as the G14 model last year, but it has enough improvements to justify the added cost.
It wasn't all perfect though.  There are a couple of bugs, which are likely going to get worked out and there is still some minor stuff to improve.  But for what I paid, this is easily a daily driver replacement and it can certainly do a lot more for someone than just play games.
Although Andrei wrote a full review on this already, I'm still going to put in my 2 cents on every category – just from my point of view.  Knowing that I was eventually going to write this, I intentionally didn't read his review until the end, to limit the bias of my impressions.  I did take some tidbits for comparison here and there though, but it was after my impressions were already outlined. So here are my thoughts on this laptop.
Specs as reviewed – ASUS ROG Zephyrus G14 GA402RJ
2022 ASUS ROG Zephyrus G14 GA402
Display
14 inch, 16:10, non-touch, matte, several panel options:
QHD+ 120Hz 3ms response, 500-nits, 100% DCI-P3, Pantone validated
Processor
AMD Rembrandt, up to Ryzen 9 6900HS, 8C/16T
Video
Radeon 680M + AMD Radeon RX 6700S 8 GB (up to 100W with Smartshift) for GA402RJ model
with MUX and Adaptive Sync
Memory
16 GB DDR5-4800 (8 GB onboard, 1x DIMM, up to 40 GB)
Storage
1 TB SSD (Micron 2450 – 1x M.2 PCIe 4.0 slot)
Connectivity
WiFi 6E (Mediatek MT7922) 2×2 with Bluetooth 5.2
Ports
left: DC-in, HDMI 2.0b, 1x USB-C gen 2 with data, DP and charging, audio jack, Lock
right: 2x USB-A 3.2, 1x USB-C gen2 with data&DP, UHS-II micro SD card reader
Battery
76 Wh, 240 W power adapter, USB-C charging up to 100W
Size
312 mm or 12.28" (w) x 227 mm or 8.93 (d) x 18.5-19.5 mm or .73-.78" (h)
Weight
1.65 kg (3.66 lbs) without Anime Matrix display,
.73 kg (1.6 lbs) power brick and cables, US version  71 kg (1.56 lbs)
Extras
backlit keyboard(RGB), HD webcam with IR, quad speakers, vapor chamber cooling
Design and first look
I never imagined I would like a white laptop.  Somehow white is the popular color of a lot of the latest tech in 2021-2022, especially in gaming devices like the PS5 and Nintendo Switch OLED+dock.  The latter looks OK, but I find the PS5 to be too ugly to even put on my entertainment center (which is why it's hidden).
So I ordered this laptop thinking I was going to hate it.  Boy was I wrong…
As soon as I pulled it out of the box, I was in awe.  This is a very remarkable-looking laptop!  It stands out, but not in a "gamer" way with crazy lighting and weird logos.  It just looks clean, and yet has subtle features to make it feel polished.
Starting at the lid, there's a pattern of holes that cover almost half the lid starting at the diagonal.  It's the same design as on the Zephyrus G15 and M16 actually.  But those models were a much darker color, so you barely even saw the holes unless you got close. But on a this lid, the holes show off the color spectrum underneath much better than the others.
There's also that polished chrome highlight at the bottom and even the ROG badge to add to the appeal.  I've said it before – I hate gamer branding (look at my old MSI reviews).  But this is an exception, because not only is it subtle, but I think it adds a little more class to the device.
Let's talk about handling.  It may be slightly larger in size to its closest competitor, the Razer Blade 14, but the Zephyrus G14 definitely has an edge in weight, and arguably in handling as well.  With the notebook closed, there are multiple ways I was able to pick it up and carry it with ease.  The machine is well balanced and certainly has enough features on it that make it easier to grip.
Compared to the Razer Blade 14, this is a no brainer.  The Blade 14 is a unibody design made solely from powder-coated aluminum.  Although the newest version has an anti-smudge layer on it, it's not going to help in handling- in fact, I found that finishing to make handling slipperier on the Blade 15.  But the combination of holes on the lid and bottom panel and the pronounced footpads make the Asus G14 quite the easy device to carry around, with little worry.  Not to mention the white color basically eliminates any chance of seeing smudges.
Now I do worry about cleanliness over time.  It is white after all, and my first thought about what this laptop will eventually look like reminds me of the dirty yellowish hue that the 2008 era Macbooks took on over time.  But those laptops were plastic and this one is a painted magnesium alloy, so that at least accounts for something.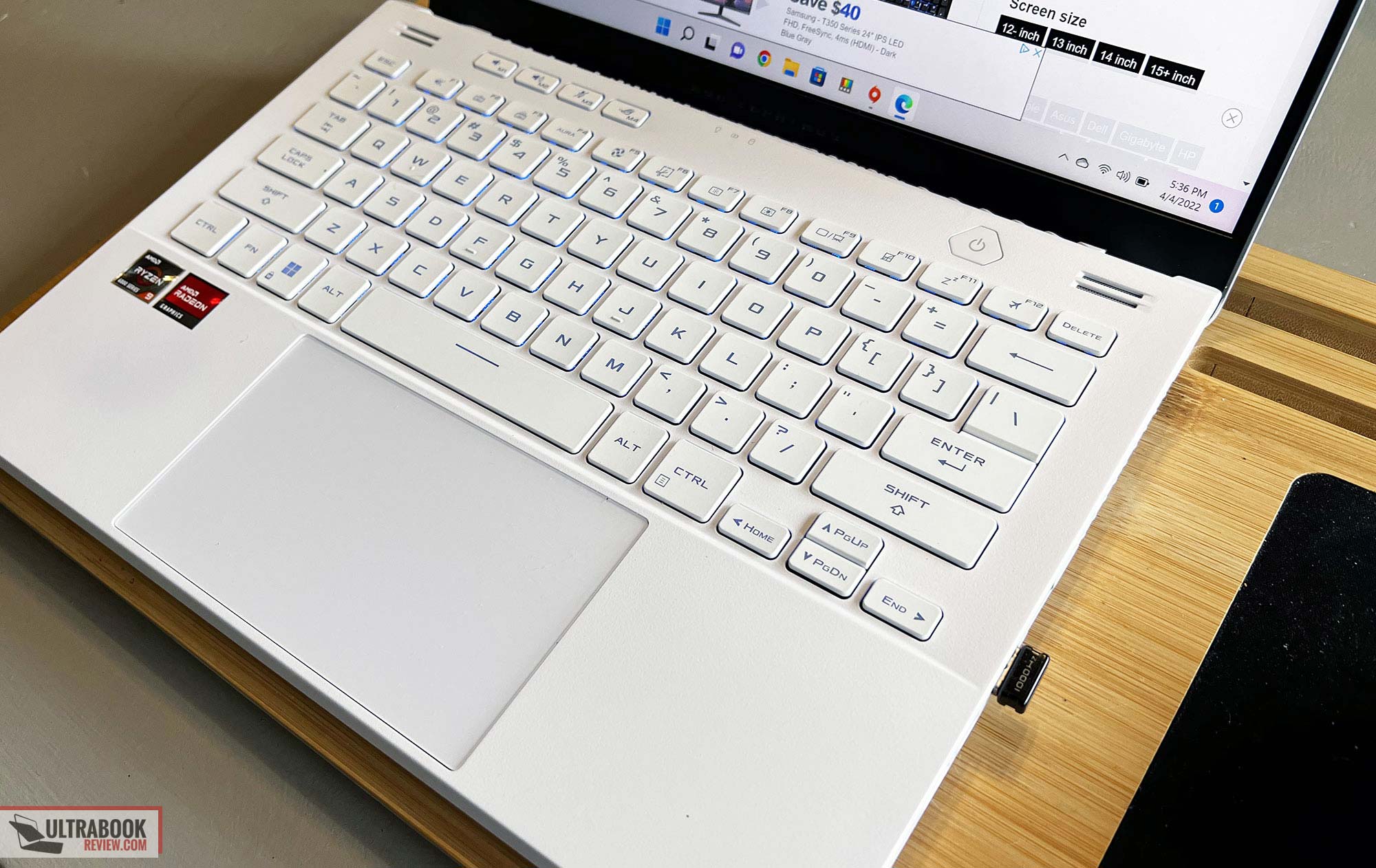 Lifting the lid is a simple 1 finger task.  This laptop uses the Ergo Lift design, which lifts the back edge slightly higher to allow more airflow underneath.  I prefer this to the trapdoor design that used to open up in previous models, but it comes with a catch.  The new "feet" from the screen act as a scoop to direct that exhaust right onto the screen.  Time will only tell if this has any negative effects on the screen.
Since I brought them up, the feet are probably my only valid complaint with the handling aspect of the design.  But it's only when using it on my lap and is pretty minor in the grand scheme of things.  I just found the edges of the feet to be a tad sharp as they dug into my legs a little, especially while wearing shorts.
The hinge for the lid is pretty stable. This is especially so on a table where the lid feet touching the surface just adds to the stability.  No wobble whatsoever.  Underneath is a large 14" screen with some very small bezels.  Centered above the screen is an HD webcam with Windows Hello.  This is a welcome improvement over previous models where Asus claimed we didn't need a webcam (or they didn't have the space).
The keyboard deck is very sturdy – with little to no keyboard flex.  Above the keyboard are two upward-facing speakers.  Also above the keyboard is a power button, but this year they removed the fingerprint sensor for some reason.  Finally, there are some indicator lights in the top center, however, they are basically hidden from sight unless you hover over them.  I prefer this to the previous design where they were always visible, but it makes me wonder why bother having them at all at this point.
On the right edge of the laptop, there are two USB-A ports and a USB-C port.  This USB-C supports DisplayPort as well as data.  There's also a UHS-2 microSD slot, which allows the card to be close to flush with the edge.  The GPU exhaust manifold is towards the rear.
On the left, there's a standard barrel power port, an HDMI 2.0 port, a USB-C which supports DisplayPort and USB charging, and finally, a headphone/microphone combo.  These are all fine, but the power adapter is a little too far forward for my taste.  It's a shame they couldn't find a way to put it in the back corner, behind the CPU exhaust manifold.
The underside is interesting-looking.  There's a grey portion of the panel which has a bunch of cutouts to draw in fresh air.  The rest is the same white color, with some very large feet on the top and bottom.  Towards the bottom is a large black sticker with all the parts and regulatory information.  Finally, flanking the corners, are another two speaker grills.  These are downward-facing, yes, but also have angled cutouts for optimum audibility.
When it's all said and done, I have to give Asus a lot of credit for this design.  This is one of my favorites when it comes to looks, but I also appreciate how premium it feels.  Especially considering the price tag.  It's not just me either – I've only had it a month and have already gotten a couple of comments at work on how nice it looks.  Other than a tweak to the IO placement, I have little more to desire.
Keyboard and trackpad
The keyboard on this laptop is rather enjoyable to type on.  After a month of use, I became quite proficient at typing quickly and accurately.  I find the key travel to be more than adequate, considering the size of the laptop.  On top of that, the feedback is good, which minimizes accidental or missed keystrokes compared to keyboards that are more on the mushier side.
The key layout is good too.  I found all the keys to be in the proper locations and properly sized, at least for the most part.  I really appreciate the normal-sized right shift key, which seems to be something that is typically shortened in order to accommodate the arrow keys on other layouts.  But by consequence, the arrow keys are smaller on this model.  At least they are all the same size.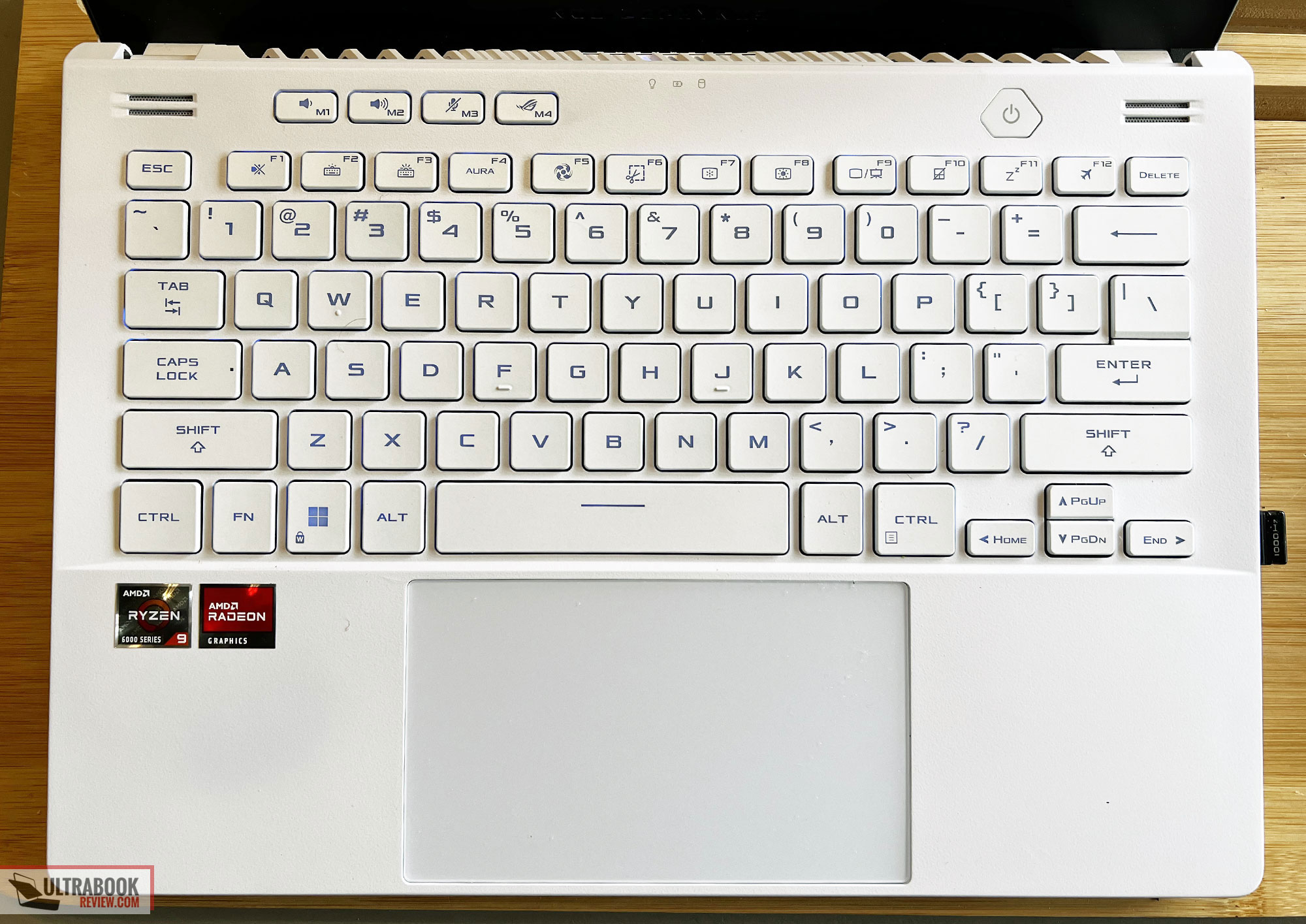 Normally I would criticize the lack of contrast by having the same color keys as the palm rest, but in this case, it actually works.  Even with no backlighting, the white keys are still very easy to read, night or day.  In fact, in most cases, I could probably live with the backlighting being completely off, because the ambient light from the screen is typically enough to see the keyboard deck.
But there is single-zone RGB backlight on this keyboard, so you might as well use it.  I chose a dark blue color with a hint of purple, as it added good contrast to the letters in both night and day.  There's no per-key RGB on this model, but honestly, I found that feature to be more of a fad rather than useful.
Of course, no keyboard is perfect, as there are a couple of things that bug me about it.  First, is the lack of a Print Screen key.  Second, is the lack of an Fn-lock option.  This has been pretty typical of Zephyrus models the past few years, so it's not much of a surprise.
The snip-it tool key (Fn-F6) sort of makes up for the lack of a Printscreen key, at least.  But having to hit Fn along with the multimedia keys is permanent and there's no BIOS setting to fix it.  The only workaround is to use Microsoft Powertoys and set up each key to do the inverse, but this is still limited, as some functions such as brightness cannot be remapped.
There are also four extra media keys at the top.  Two are mapped for volume, the third mutes the microphone, and the last opens Armory Crate.  You can remap these in Armory Crate if you wanted to.  I mapped M3 to a dedicated print screen key on mine.
The trackpad on this laptop is also very good.  It's large, glass, and works as it should.  I didn't have any trouble with tracking the pointer or multi-touch gestures.  I also had no trouble with typing, as palm rejection works fine and the trackpad is out of the way from my palms anyways.
In short, the trackpad works great and there's literally nothing I would want to be improved on it.  This inarguably one of the best trackpads I have used so far.
Screens
This model includes a beautiful screen.  It's 14" 2560×1600 px resolution with a 16:10 ratio, which has been quite the popular design feature for both gaming and mainstream laptops lately.  What's nice about this is the bezels are small on all 4 sides.
The viewing angles are very good, with no significant light shift or color imbalance when shifting your view vertically or horizontally.  I couldn't find any dead pixels on my unit either.  But there was a small amount of backlight bleed on my panel, at the top edge towards the right.  It's not bad, but will certainly be noticeable when black bars are showing for 16:9 movies.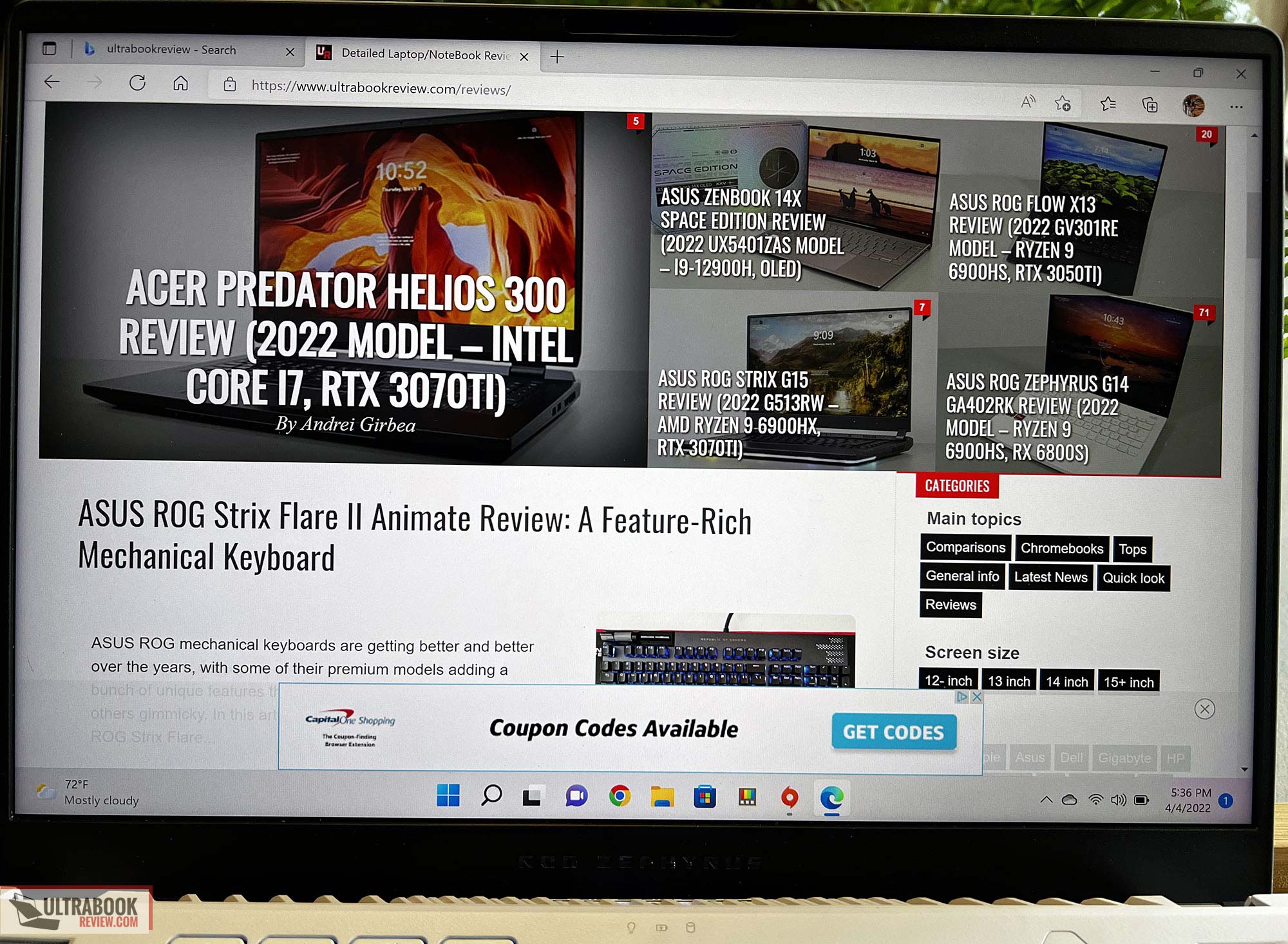 The biggest highlights of the screen are the speed and color coverage.  The panel is 120Hz with good response times, and covers 100% of DCI-P3.  This is perfect for gaming and is even good enough for content creation that relies on color accuracy.  In short, it's just perfect to look at on a day to day basis.
I took some measurements on my X-rite i1 Display Pro sensor and here's what I got:
Panel HardwareID: BOE NE140QDM-NX1 (BOE0A1D);
Coverage: 142.4% sRGB, 100.9% DCI-P3, 98.1% AdobeRGB;
Measured gamma: 2.2;
Max brightness in the middle of the screen: 466 cd/m2 on power;
Contrast at max brightness: 969:1
Native white point: 7060 K;
Black on max brightness: 0.48 cd/m2.
The other big highlight is the 500 nits of brightness that's advertised.  I didn't quite measure that high with my meter, but it was close enough.  Using this in bright offices or with sunlight shouldn't pose much of a problem.
You may have read or watched some other reviews on this laptop already, which complained about dim screens.  In fact, many of the early Best Buy reviews also had this complaint.  I was worried, but it didn't affect me.  Until it did.
Suddenly out of nowhere, my screen had a max brightness of 250 nits and I had no clue why.  Andrei's been in contact with Asus about this and the good news is, it's been fixed.  A Windows update a couple weeks back fixed my bug and my screen is back to normal.
Arguably, the only complaint left I could have is the contrast ratio.  The blacks at each brightness point were pretty bright, and the contrast ratio hovered around 970:1.  Don't get me wrong, the screen is still more than useable – but if you're sensitive to having deep blacks, there are better options out there.
Color uniformity isn't perfect, either, with some DeltaE variations in the corners, something those interested in color-accurate work might want to pay attention to.
Besides that though, this is probably my favorite screen so far this year. There's little to hate about it and it certainly is pleasant to use every day.
Hardware and performance
This unit is the mid-specced configuration of the Asus ROG Zephyrus G14 2022, code name GA402RJ, built on an AMD Ryzen 9 6900HS processor, 16 GB of DDR5-4800 memory in quad-channel, 1 TB of SSD storage, and dual graphics: the AMD Radeon RX 6700S with 8 GB of vRAM and the RDNA2-based Vega 680M integrated within the AMD processor.
Disclaimer: This is a retail unit purchased from Best Buy, and it runs on the software available as of late-March 2022 (BIOS 309, Armoury Crate 5.0.23.0). Nonetheless, some aspects might change with later software.
This laptop has the Ryzen 9 6900HX CPU, which is an octa-core processor that boosts at 4.9Ghz.  It's an insane amount of performance for such a small laptop.  This chip is worthy competition to Intel's previous-gen i9-11980HK, which I've seen in only laptops much bigger than this one.
What's unique with this laptop is Team Red's GPU being paired with the CPU.  I've gone through scores of laptops, but this is a first to me.  My unit has the Radeon RX 6700S, which is their mid-tier chip for gaming, probably equivalent to a 3060 in terms of Nvidia.  It comes with 8GB of VRAM, which should be plenty at this resolution.
The RAM on this unit is partially soldered.  8 GB are onboard and there's a single module that is replaceable, but it's 8GB on this configuration.  So you can upgrade to up to 40GB, but risk only running it in fewer channels for anything past 16GB.
Combined together, this laptop can do quite a lot.  Not only can it game, it can also be a heck of a work laptop, if needed.  I was able to use CAD on it as if it were my desktop, which is pretty powerful on its own.  This could easily replace my daily driver, and being as small as it is, that is impressive on it's own.
The included SSD is 1TB in size and it's made by Micron.  It's technically PCIe 4.0, but after taking a benchmark, that is in compatibility alone I guess.  The speeds I got are more like PCIe 3.0, with perhaps a tiny bump.  I suppose you could upgrade it, but the odds of you seeing any real-life differences to justify the cost are really low.  I'd pass on the upgrade unless you need a bigger drive.
Speaking of upgrading though, lets talk about that.  There are 11 Phillips screws on the bottom cover, in order to pop it off.  Three of these are hidden behind some silicone pads.  I have no clue why Asus did this, but some needlepoint tweezers get them off pretty easily.  Note that they are sticky on one side, so you have to give it some pull.
All the screws are removable except for the bottom right, which is retained.  Unthreading that one lifts the corner of the cover off so you have a gap to pull from.  Carefully pull the cover and the clips will come undone with relatively little effort.  "A" for effort in making this easy for us on this one.
With the cover off, you get a good look at all the internals, minus one.  The Wifi card is actually buried underneath the SSD, which you have to remove just to see.  Easy enough to do, though.  The RAM slot is also easily accessible and located under a plastic flap.
The vapor chamber is well labeled for something you'll hardly ever look at again.  There's a warranty sticker on one of the heat sink screws, so be sure to look into how this affects your warranty, depending on what country you're in.  Really though, there shouldn't be much need to do this.  From my understanding, Asus already applies liquid metal paste underneath the vapor chamber.  This is even more of a reason NOT to go in there because if you don't know what you're doing, you can seriously damage your hardware.
As far as software goes, Armory Crate is preinstalled on this laptop and can be used to change the power profiles.
You can also use Fn-F5 to shift between them.  Each mode has different limits for the TDP and TGP of the CPU and GPU.  Keep in mind, these aren't hard limits like with Intel – these are more like observations of where I typically say power levels eventually hang out at, after the heat builds up. The table below is what I noted during my use:
Silent
Performance
Turbo
Battery
TDP
TGP
TDP
TGP
TDP
TGP
TDP
TGP
45W
50W
45W
75W
64W
90W
45W
40W
In practice, the Radeon dGPU has a TGP of up to 100W on the Turbo/Manual modes, but it almost never went there during my use.
Here's what to expect in terms of temperatures and performance with daily use, on Quiet mode:
Let's dig into the benchmarks now.
Here's how the Ryzen 9 processor fairs in the Cinebench loop test on the several power modes.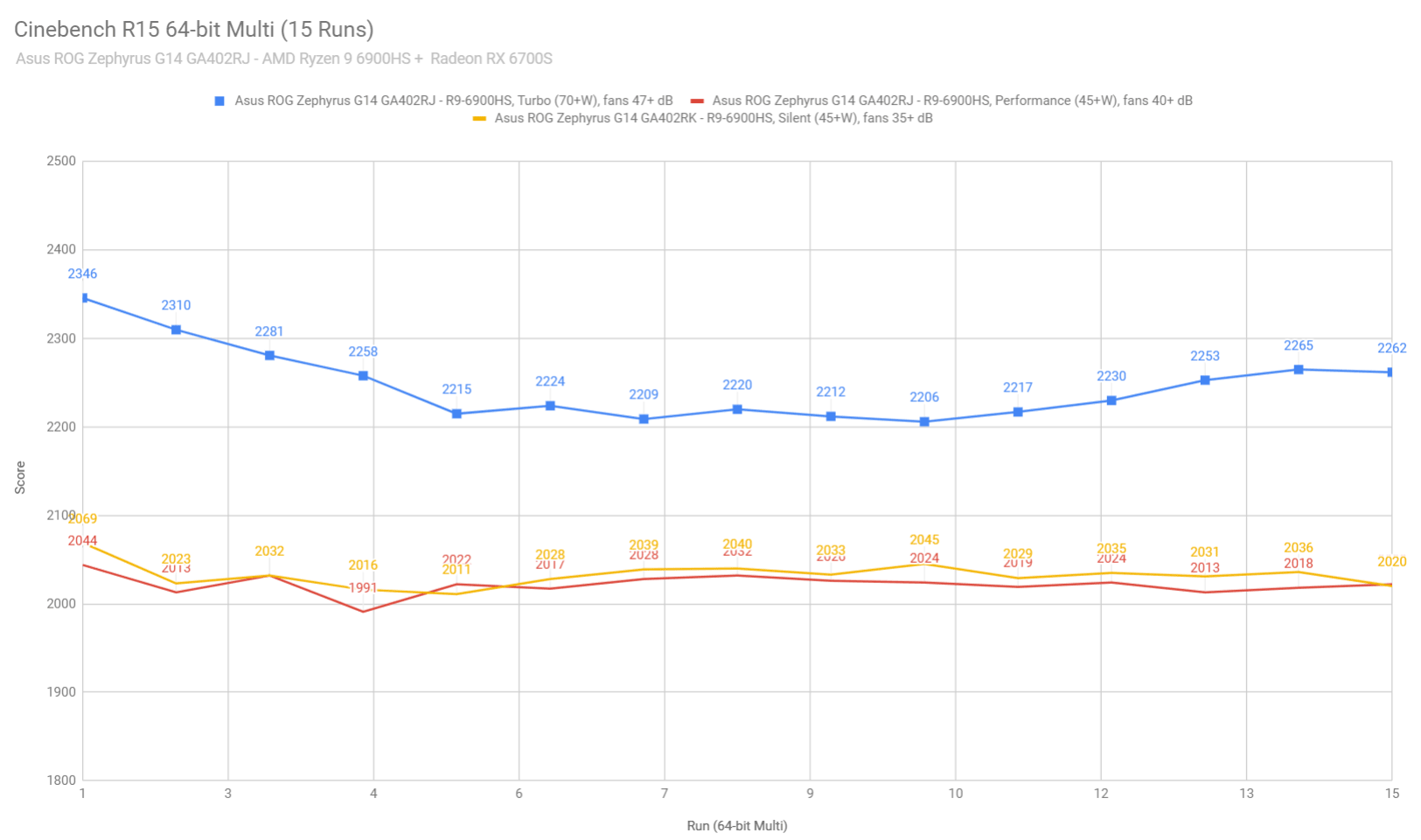 Stress-testing performance is explained more in-depth in Andrei's review.
My first round of testing was in Turbo mode with the MUX set to discrete GPU:
3DMark 13 – Fire Strike: 21225 (Graphics – 23737, Physics – 26424);
3DMark 13 – Time Spy: 8427 (Graphics – 8124, CPU – 10696);
3DMark 13 – Port Royal (RTX) Graphics: 3691;
3DMark 13 –CPU profile: max – 7243 16 – 7219, 8 – 6003, 4 – 3432, 2 – 1832, 1 -940
Uniengine Superposition – 1080p Extreme: 4288;
Uniengine Superposition – 1080p Medium: 13706;
GeekBench 5: Single-Core: 1570, Multi-core: 9574;
CineBench R15: OpenGL 202.07 fps, CPU 2272 cb, CPU Single Core 245 cb;
CineBench R23: CPU 13911 pts, CPU Single Core 1543 pts;
Next, I switched back to Hybrid MUX mode and kept the power profile in Turbo.  Here were my results:
3DMark 13 – Fire Strike: 21187 (Graphics – 23796, Physics – 25654);
3DMark 13 – Time Spy: 8235 (Graphics – 8033, CPU – 10082);
3DMark 13 – Port Royal (RTX) Graphics: 3660;
3DMark 13 –CPU profile: max – 7185 16 – 7153, 8 – 5786, 4 – 3436, 2 – 1813, 1 -931
Uniengine Superposition – 1080p Extreme: 4296;
Uniengine Superposition – 1080p Medium: 14077;
GeekBench 5: Single-Core: 1586, Multi-core: 9752;
CineBench R15: OpenGL 212.21 fps, CPU 2278 cb, CPU Single Core 248 cb;
CineBench R23: CPU 13978 pts, CPU Single Core 1551 pts;
Next, I set the mode to Performance with the MUX on Hybrid.  Here were my results:
3DMark 13 – Fire Strike: 18996 (Graphics – 21065, Physics – 24617);
3DMark 13 – Time Spy: 7501 (Graphics – 7240, CPU – 9437);
3DMark 13 – Port Royal (RTX) Graphics: 3297;
3DMark 13 –CPU profile: max – 6489 16 – 6459, 8 – 5475, 4 – 3341, 2 – 1812, 1 -928
Uniengine Superposition – 1080p Extreme:3846;
Uniengine Superposition – 1080p Medium:13344;
GeekBench 5: Single-Core: 1586, Multi-core: 9507;
CineBench R15: OpenGL 212.34 fps, CPU 2035 cb, CPU Single Core 247 cb;
CineBench R23: CPU 12263 pts, CPU Single Core 1526 pts;
Finally, here are my results after switching to Silent mode:
3DMark 13 – Fire Strike: 18523 (Graphics – 20430, Physics – 23829);
3DMark 13 – Time Spy: 7270 (Graphics – 7000, CPU – 9314);
3DMark 13 – Port Royal (RTX) Graphics: 2820;
3DMark 13 –CPU profile: max – 6597 16 – 6534, 8 – 5387, 4 – 3312, 2 – 1716, 1 -923
Uniengine Superposition – 1080p Extreme: 3691;
Uniengine Superposition – 1080p Medium: 13174;
GeekBench 5: Single-Core: 1567, Multi-core: 9499;
CineBench R15: OpenGL 204.30 fps, CPU 2062 cb, CPU Single Core 245 cb;
CineBench R23: CPU 12444 pts, CPU Single Core 1534 pts;
Not bad, really!  You can certainly see just how powerful that CPU is.  What's truly impressive is how well the laptop functions in Silent mode.  Usually, this mode comes at a great sacrifice to the CPU, but it appears to have quite a bunch of horsepower in this laptop and still stay under 35dB fans.
If interested, a detailed comparison between this Ryzen 9 + 16GB RAM + RTX 6700S configuration and the Ryzen 9 + 32GB RAM + RTX 6800S model is available over here. You'll also find more about the 6800S model here, with references to competing platforms from Nvidia.
I also did some testing in some games.  I took these readings in Turbo mode with the MUX set to Hybrid:
| | | |
| --- | --- | --- |
| | FHD+ – Turbo Mode | QHD+ – Turbo Mode |
| Battlefield V (DX 12, Ultra Preset, Ray-Tracing OFF) | 121 fps avg, 96 fps low | 85 fps avg, 74 fps low |
| Battlefield V (DX 12, Ultra Preset, Ray-Tracing ON) | 42 fps avg, 31 fps low | 32 fps avg, 18 fps low |
| The Witcher 3: Wild Hunt (DX 11, Ultra Preset, Hairworks On) | 80 fps avg, 68 fps low | 57 fps avg, 52 fps low |
| The Witcher 3: Wild Hunt (DX 11, Ultra Preset, Hairworks Off) | 92 fps avg, 76 fps low | 64 fps avg, 56 fps low |
| Horizon Zero Dawn(Ultra) | 92 fps avg, 80 fps low | 61 fps avg, 52 fps low |
| Cyberpunk(Ultra, Ray Tracing On) | 32 fps avg, low 27 fps | 12 fps avg, 10 fps low |
| Cyberpunk(Ultra, Ray Tracing Off) | 58 fps avg, low 49 fps | 20 fps avg, 18 fps low |
| Valheim(High preset) | 60 fps avg, 56 fps low | 38 fps avg, 21 fps low |
Considering it's the mid-tier GPU, this isn't bad at all.  These results fall between a mid-powered RTX 3060 and a 3070, closer to the latter.  For the casual gamer, this is more than enough, especially if you're OK with dialing the graphics back a little bit or even shifting to FHD.
More serious gamers might want to opt for the RX6800S model, which is the same as in the unit Andrei reviewed.  Expect those results to be 10-15% higher across the board.
One thing that this AMD hardware is lacking on is Ray Tracing performance.  It's just not up to par with Nvidia's cards and is probably best to leave off.  You do get FSR support in some titles, but DLSS is non-existent, which makes RT even worse.  If you have no idea what these settings are, you probably won't miss them. I personally leave them off even on my Legion 7 with an RTX 3080.  To me, Ray Tracing looks cool and all, but it makes such an impact on the performance that it's not worth it.  My opinion of course.  I just prefer better framerates.
To sum up, this model performs very well, especially when you take into consideration the cost and form factor.  There is the matter with heat though, which is what we're gonna cover next.
Emissions (Noise, Heat), Connectivity, speakers, and others
The Zephyrus G14 2022 model uses a vapor chamber cooling system in order to keep the internals cool.  I got a good look at it while opening it up, and they certainly do a good job marking the chamber as to where the components are. On both sides there are two high capacity fans, which take in air from the bottom plate and exhaust it out the sides and to the back, between the hinges.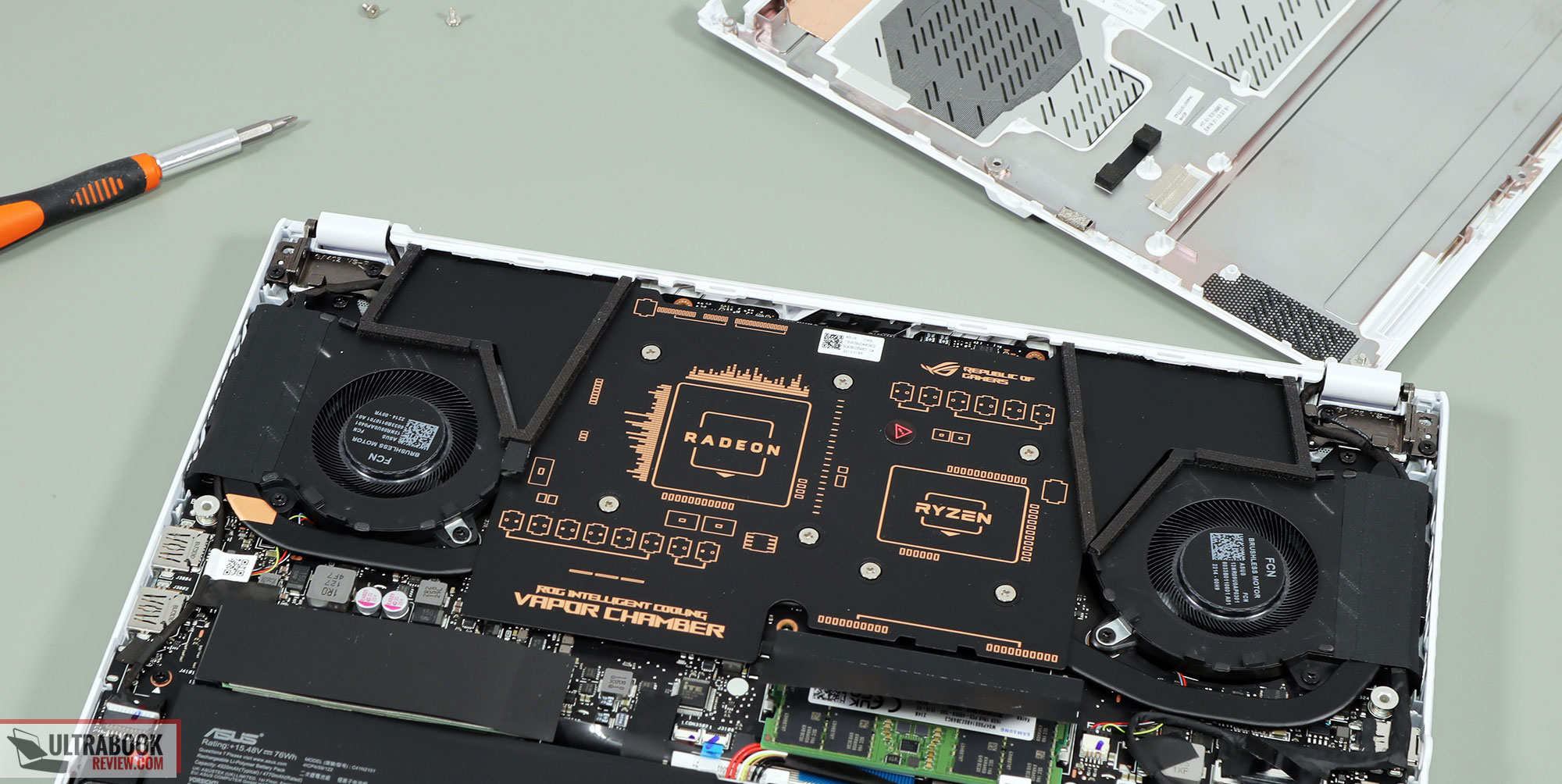 We also get the advantage of liquid metal paste being applied to both the CPU and GPU – something most manufacturers don't bother with.  This is probably the reason they have a warranty sticker on the heatsink, as you can seriously damage the CPU and GPU if you get that liquid metal in the wrong places.
This cooling solution does a pretty decent job for the most part.  I do find the laptop to get a little too hot for my liking, but turning the settings down from Turbo mode usually does the trick for me.
I ran a test with Horizon Zero Dawn, where I ran the game for an extended period at each power profile.  The intent was to measure the differences in temperatures as well as ambient noise levels from the fans.  Check it out:
| | | | |
| --- | --- | --- | --- |
| Mode | Turbo | Performance | Quiet |
| CPU temps | 94C avg with 95C spike | 77C avg with 92C spike | 74C avg with 86C spike |
| GPU temps | 87C avg | 80C avg | 76C avg |
| Avg fan noise after stabilized temps | 50 dB | 42dB | 37dB |
| Game performance | 61 fps avg, 52 fps low | 57 fps avg, 50 fps low | 48 fps avg, 33 fps low |
So in Turbo mode, we clearly have some very high internal temperatures, to the point where I don't think I'll use Turbo mode again.
The Performance mode was much more reasonable.  Average CPU temps were much better and the fan noise was more tolerable as well.  And notice how it barely affected the gaming performance.  I still think the GPU temps were a tad high, but it's within spec and should be OK in the long term.  Liquid metal doesn't usually benefit the GPU as much the CPU, so I wonder if a different paste would help.
Quiet mode was pretty decent, but you really start to affect performance at this point.  The fans are practically inaudible if you are using the onboard speakers to play your game.  And in this mode, temps are under control.  I still plan on using Performance mode primarily on this machine, though.
For external temperatures, there weren't many surprises to me.  This laptop is thin and it has a very powerful CPU inside it.  Even with a vapor chamber, that heat still needs to go somewhere.  So the result is you have warmer surfaces, especially on the underside.
What interested me is how well the fans kept the keyboard cool while gaming.  The WASD keys were amongst the coolest parts of the unit.  For long-term sessions, this should be ok.  Just don't plan on playing directly on your lap.
I took some images with my FLIR camera so you can put it into perspective.  I also included a shot on the screen so you can see how that exhaust from the hinge spills out onto the panel.  This doesn't affect the actual use of the laptop – it's just note-worthy.


The Wifi module on this year's G14 is a Mediatek MT7922 Wifi 6e module.  It works ok.  The only criticism is that it takes a few seconds to connect, whereas most other modules connect immediately.  I say this because with face unlock, I've actually gotten to my desktop and opened Chrome just to find out that Wifi isn't available yet.  Minor complaint, but slightly annoying.  From sleep mode, this isn't an issue – only from a powered-down machine.
It does have good Wifi speeds though and my stability has been very good.  No unusual drops or anything.  My speed test results in 514Mbps at about 30 feet away from my router.  This module also has Bluetooth 5.2 which works fine for me.
I also like the speakers on this laptop.  They're loud enough and reach 80dB(A) on my measurement tool.  The bass is also pretty decent, going as low as 90Hz. What's really important is how full the sound is, though.
With two tweeters on top and two regular drivers on the corners and underside, you really split up the highs and mids properly and cover most of the spectrum.  Yes, there's no actual sub for the lows, but you really don't want that on a laptop this small, as it'll just vibrate unnecessarily.
Thankfully, Asus finally put a webcam on this model.  Frankly, this is one of the things that kept me from getting the previous model last year.  In this post-pandemic world, I find it almost impossible to be without a webcam now.
Unfortunately, it's not the greatest camera.  In well-lit rooms, you get a decent image.  But in low-lit rooms, it's awfully grainy and the colors will likely be washed out by what little light you have.  Still, it's better than nothing.
The good news is it's IR, so Windows Hello will use it to unlock your laptop with your mug.  That aspect worked perfectly fine for me, and I much prefer having that over fingerprint unlock or worse, nothing at all.
Battery life
Asus managed to squeeze a 76Whr battery into this unit, which is a pretty decent size.  And it's a good thing they did, because this model has some pretty  good battery life.
I took a bunch of battery measurements, with the screen set at 30% brightness, which is about 106 nits for this model.  I also set the GPU power mode to hybrid – eco.  Here's what I got under various situations:
5.8 W (~13 h 6 min of use)– idle, Quiet mode with battery saver on, screen at 0%, Wi-Fi ON, backlighting off;
7.8 W (~9 h 45 min of use) – text editing in Word/Excel with light internet use, Quiet mode, screen at 30%, Wi-Fi ON;
12 W (~6 h 20 min of use)– 1440p 60hz Youtube fullscreen in Chrome, Quiet mode, screen at 50%, Wi-Fi ON;
8.4 W (~9 h 3 min of use)– 1080p Netflix fullscreen video in Chrome, Quiet mode, screen at 30%, Wi-Fi ON;
20.0 W (~3 h 48 min of use)– heavy browsing in Chrome,  Performance Mode, screen at 30%, Wi-Fi ON;
62.3 W (~1 h 13 min of use)– Gaming – Witcher 3, Maximum Performance Mode, 60fps, screen at 70%, Wi-Fi ON.
So yes, impressive indeed.  I could certainly take this out without a battery and plan to get a good day's work done with it.  Of course, I always carry a GaN charger on me, just in case, as this laptop supports USB-C charging up to 100W. You're not getting the full capabilities on USB-C power, though, as explained in this article.
The actual power brick you use to fully utilize the machine is 240W.  It's compact enough and fits well in my bag.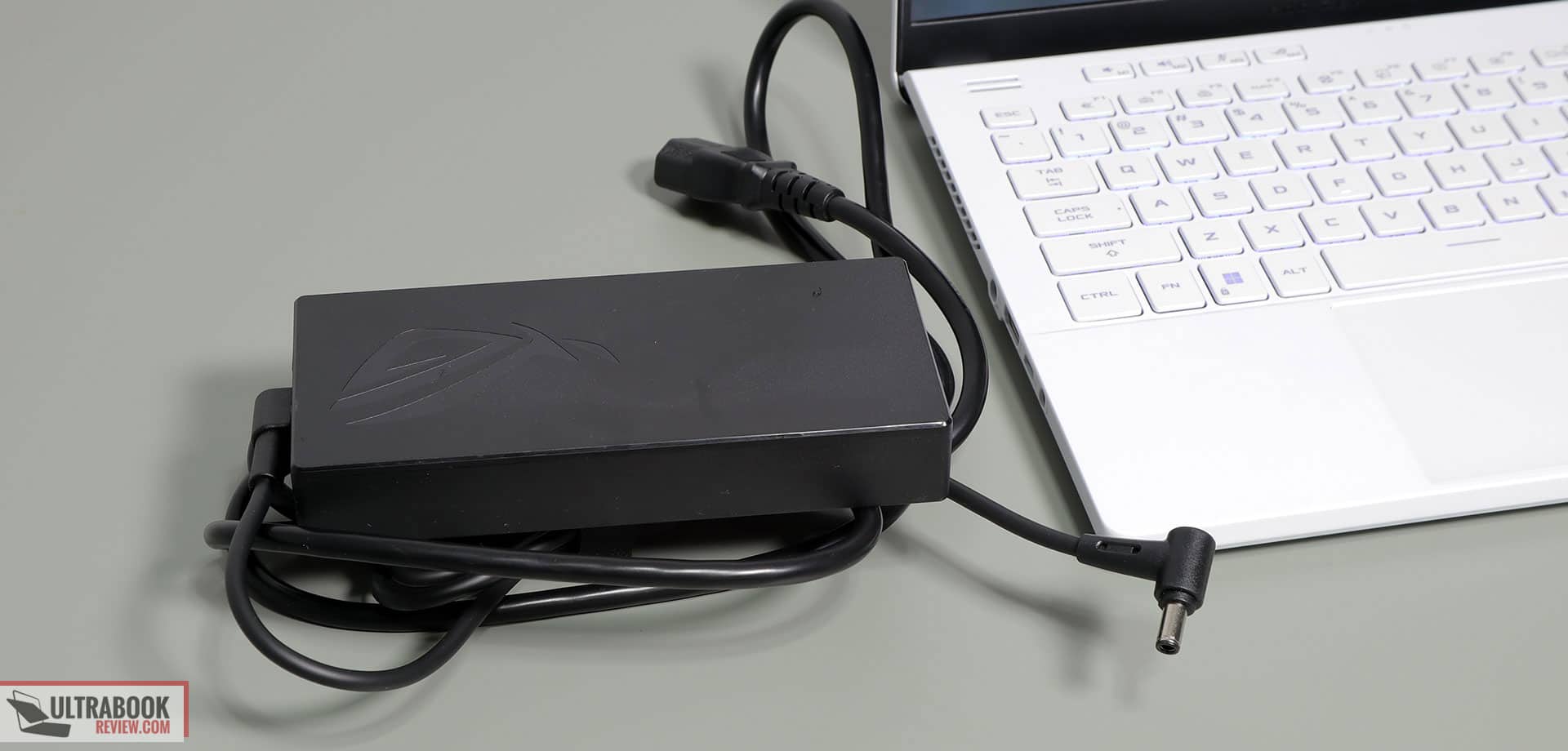 Price and availability
At the time of this review, the Asus Zephyrus G14 with the RX 6700S is available exclusively at Best Buy for $1649.
There's also a higher-end model which has the exact same specs, only with an RX 6800S.  This model will set you back $1899.
I'm not sure if $250 is worth the extra 10-15% graphics power, but it's not completely unreasonable.  But if you want to save some big dollars, check out Best Buy for the 2021 version of the G14.  Prices for the QHD model with RTX 3060 have gone as low as $1250, which is an absolute steal.
You should also check this out on Amazon, when available at a later date. Buying from our Amazon links supports our work. In the meantime, follow this link for updated configurations and prices in your region at the time you're reading this article.
Final thoughts- 2022 ASUS Zephyrus G14 review
Like I said at the very beginning of the article, I have no regrets buying this laptop.
It really checks a lot of boxes off for me and the value is tremendous.  I never had any of the previous models, so I can't make any direct comparisons like Andrei already has.  But from a fresh perspective, I really think this could be the laptop to buy this year.
What makes it stand out is the overall design.  The all-white look makes it one of the most unique laptops out there.  It's also very sturdy, has a huge trackpad, and a good keyboard as well.  Add in a near-perfect screen and you pretty much have a solid answer for all the most commonly used components.
Then take into consideration the improvements over previous models.  There's now an IR webcam,  better contrast on the keys, better-placed speakers, and a microSD card reader.  These were all common complaints on the last models, that get fixed in this one.
There's still a little room for improvement though.  The SSD for example could have actually had PCIe 4.0 speeds.  I would have liked to see a better brand Wifi card as well.  But these things are minor I suppose, because they worked fine as they are and they can be upgraded if really needed.
All this into consideration, the overall value I find in this laptop is there.  At $1649, it's hard not to balk at the price, considering the hardware you get.  Yes, it's $100 more than last year's 3060 model, but that's not a bad deal for getting just the improvements listed above, isn't it?
It is for me at least.  Even seeing the 2021 model on sale for $1250, I'm still happy with my purchase and plan on keeping this around for quite some time.  That said, I'm happy to answer any questions you may have about my experiences.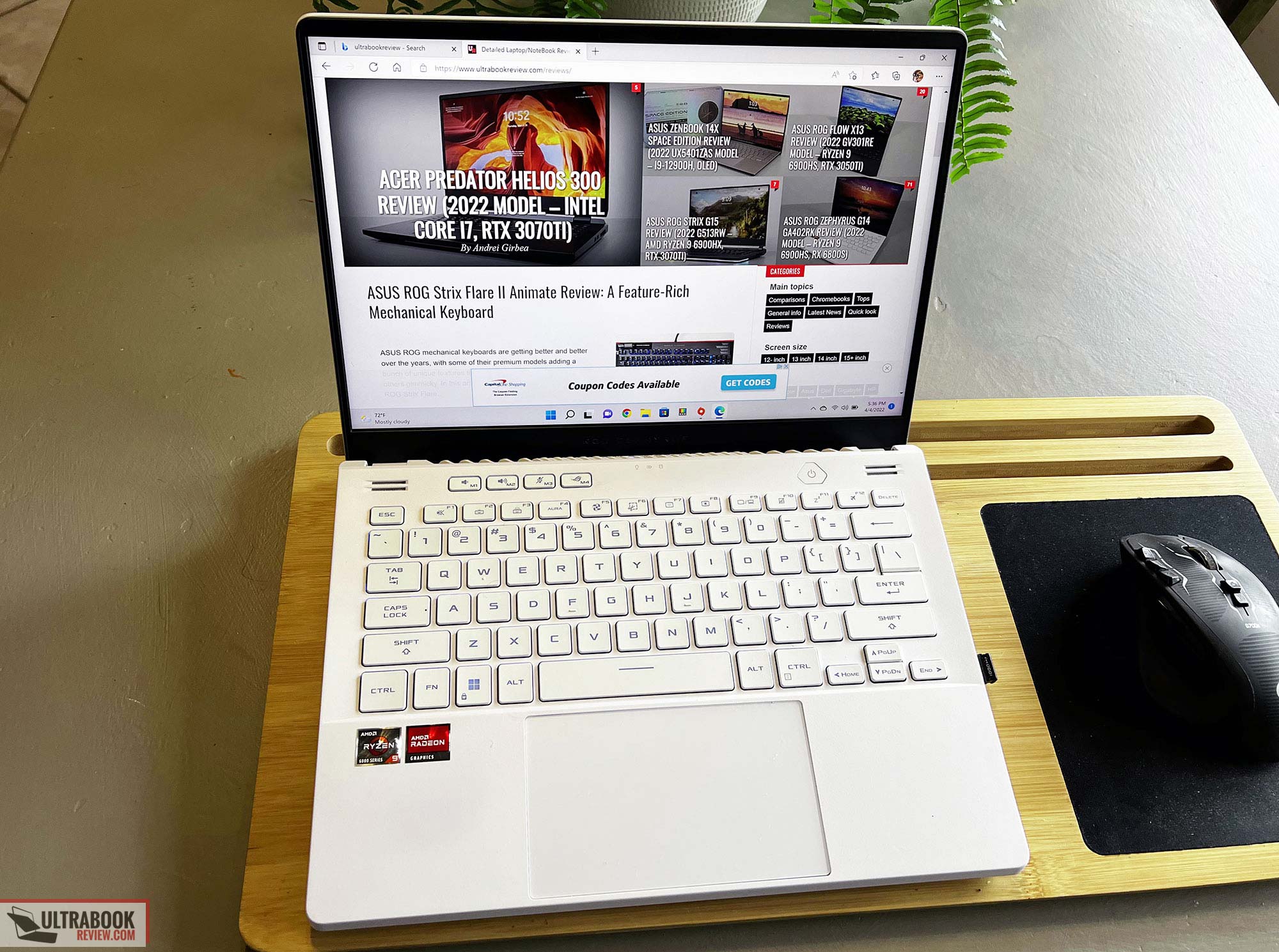 Disclaimer: Our content is reader-supported. If you buy through some of the links on our site, we may earn a commission. Learn more.