Spoke is an amazing application that helps you to transcribe, record, summarize, organize, edit, and share your video meetings and conversations. It is very easy to use, in just a single click you can accurately transcribe and record any or all of your video conversations. I have been using Spoke for a quite long time for interviews and I can do recaps in just a matter of a few seconds, usually in two to three seconds. And that's no doubt very fast. Spoke makes me comfortable while I am doing meetings because it ensures that all these things are getting transcripted. Especially, while doing meetings and webinars for hours on Facebook lives and Zoom, it is very hard to do all those highlights. But Spoke manages to transcript all audios and search for the keyboards that I wish to introduce in my highlights. And make it ready for Facebook, Instagram, and Twitter. So, a lot of time can be saved by using Spoke. Spoke enables you to do meetings freely and discuss whatever you wish to discuss with people.
Spoke Overview
Spoke lets you record and transcribe videos easily. You can edit and then share your subtitled and transcribed videos with customers, coworkers, social medial followers, stakeholders, and with anyone across any platform you wish. Highlight the part of the transcription text that you wish to change and it will take you just seconds to edit your video. You can also organize your content and search through your videos by labeling your conversations. Using Spoke you can very easily transcribe the videos with up to 90% of accuracy that simply means you can give your undivided attention to your real-time conversations. In addition, you can also short summaries of long meetings and share them with your team and label them as "Feedback" and "To-Do" so that you and your team can work without wasting any time.
Features of Spoke
Search
The search feature allows you to create new videos and gather clips on similar clips on similar topics to your video like meeting-to-do or user feedback. It allows you to get the important parts of the video by searching the transcript.
Labels
Use labels to create new videos with specific themes.
Camera recording
Camera recording lets you transcribe and record with a camera bubble on your screen.
Transcripts and subtitles
Use transcripts and subtitles to have better outcomes for your videos by boosting the ease of viewing and accessibility.
User interface
Tag important moments and highlight them live in the Spoke user interface so that you can keep track of key questions and comments.
Sharing
You can share any of your video clips, sound clips, and transcriptions to any social media platform you wish. You can share either the highlights or the complete video.
Recording
Spoke recording feature allows you to record anything or everything in your video meeting or conference.
Transcription
This is the most important feature of Spoke. It transcribes everything that has been said during a video call in just a single click.
After you found the sound clip, all you have to do now is extract it and make a standalone video clip.
Creating Summaries
Create summaries of your long video meetings and then share them with your team or simply post clips of your webinar to social media.
Edit
The Edit feature of Spoke includes many tools to edit your recorded videos. All that has to be done for doing so is: highlight the text in your transcription and then change that highlighted part if you think it wasn't accurate or good enough.
How to use Spoke?
Step 1- Log in to Spoke. You will see an interface with a demo video.
On the top of this page, there will be three options: Summaries, Clips, and Upload files.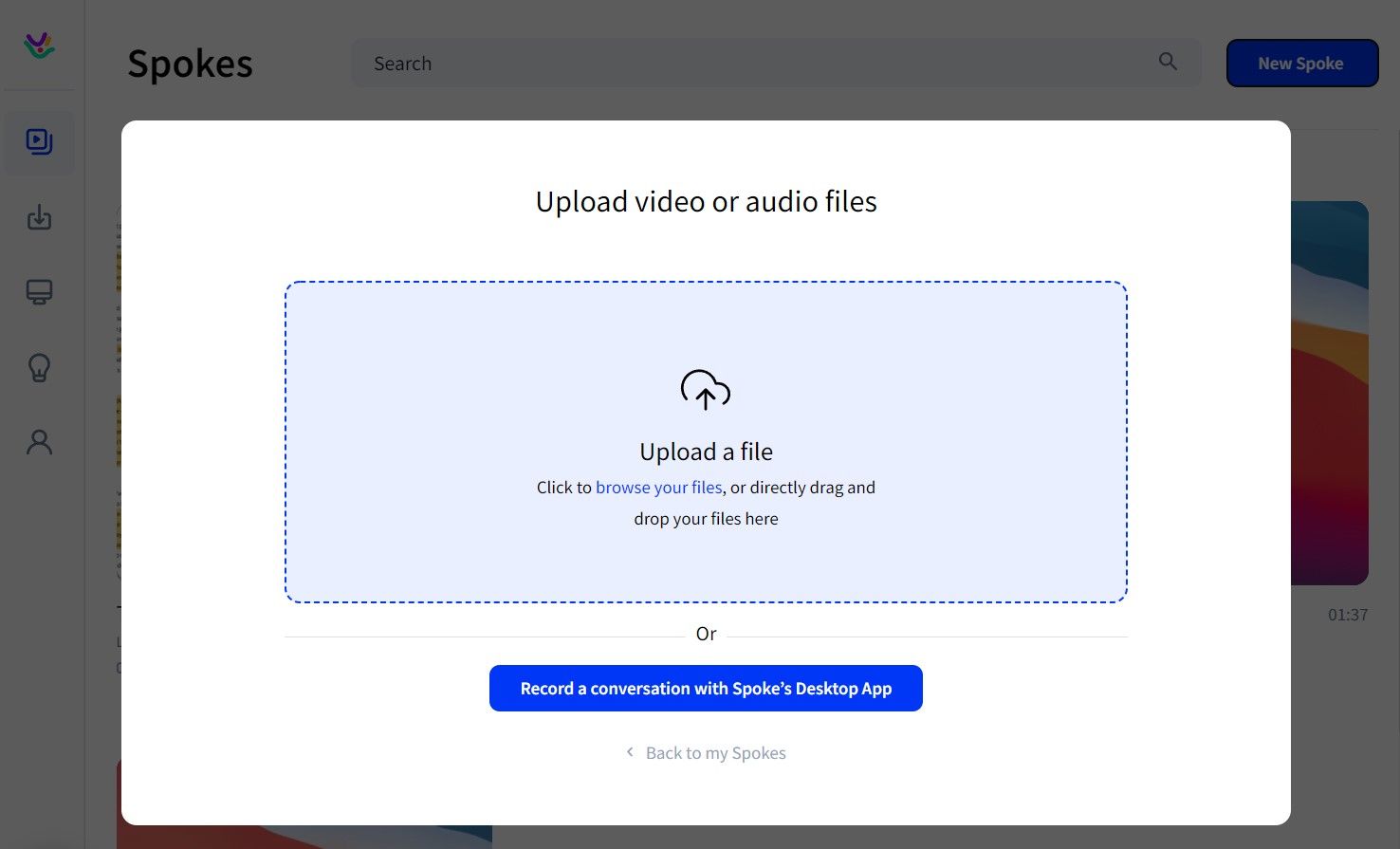 Step2- Upload any of your video files by heading over to "Upload file". Drag and drop your video file.
Spoke transcribe the uploaded video depending upon its length.
Step3- After transcription is generated. Highlight the important part and add it to the summary. You can highlight the content by just selecting it. Now, all the highlights will be shown below your video and viewers can easily opt to see the highlights by clicking on them. For each highlight, you can assign a label for better categorization if you have a lengthy video with many highlights.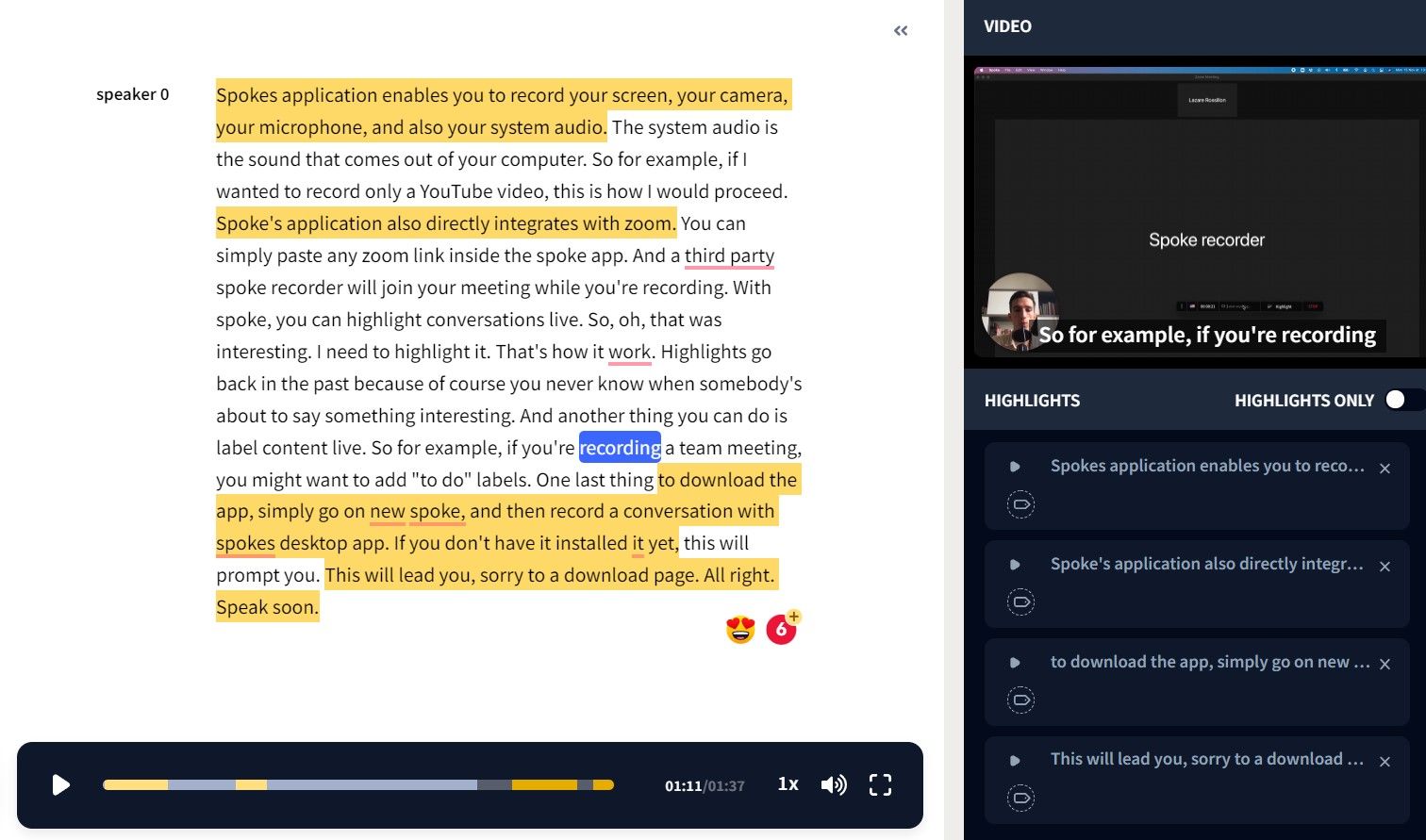 Step4- Summarize the video.
Step5- Head over to the video editor and cut natural flowing. Download the video and the subtitles.
Alternatives to Spoke
Google Meet
It allows you to catch up on meetings in a few minutes. You just have to link the minutes of your meeting with the exact moment in your video recording and transcript. It is free and works with your async collaboration app and CRM.
Spoke Enterprise
Spoke Enterprise is a great application as it lets you transcribe any video call in more than 100 languages. You can edit it quickly by highlighting its transcript and then sharing it with a unique link to your team. It offers a free version which also includes these features.
Pickle
Pickle is another powerful application that helps companies and teams to understand every video and phone call that they have with the customers by automatically transcribing and extracting key insights, trends and questions.
Vatis Teach
Vatis Tech is an amazing application to save hours and hours while working with audio and video content. It provides an accurate and insightful transcript and summary service. By offering an editable transcript, extracting mentioned entities, a list of questions, and proving a small description based on some meaningful ideas.
Avoma
It is an Al-summery note-taking assistant for standups. It allows you to automatically transcribe, record, and summarize your standups daily.
Spoke FAQs
What language does Spoke support?
Spoke is multi-lingual. It supports multiple languages from all across the globe.
What is the integration of Spoke?
Spoke integrates with Zoom calls directly. You can record any conversation you wish to by simply inviting a Spoke bot to your Zoom call.
Does Spoke offer a Free Plan?
Yes. Spoke offers a free forever plan with a storage of 10 conversations.
Which applications can be used to record conversations?
You can use Spoke's macOS or Windows application to record any non-copyright-protected video source or conversations.
Spoke is best for what kind of users?
Spoke is a great application for marketing pros and remote teams that wish to do more with share feedback, and video collaboration.
Pricing of Spoke
Free Forever Plan– At $0
Transcribe, record, and share any conversation.
Store up to 10 conversations on Spoke
Share and create video highlights
Knowledge Plan– At $17
All of Free Forever features
Download your transcripts, videos, and highlights that are stored on Spoke
Professional transcription for $60 per hour
Store about 80 conversations on Spoke
Enterprise Plan- At $80
All the features of Knowledge included
Unlimited storing
Dedicated account executive
No branding on the shared videos of Spoke
On-premise hosting
What makes Spoke stand out?
Spoke is an amazing application that enables you to record any discussion or meeting. It is specially built for conversations; it allows you to record yourself with a camera bubble so that you can create a clear edited screen explainer in just a matter of seconds. We all know that video chatting is one of the finest ways of interaction and be it a normal discussion or an important meeting we cannot always stay focused or pay 100% of our attention. Also, we cannot take notes fast enough to gather all the key points in one place. Even if we try doing so there is always a chance of missing something really important. Here Spoke comes into play, it is the best solution to overcome all the issues you face while attending an important meeting. Spoke gives you accurate transcripts and recordings that match your needs perfectly. Also, it saves a lot of your precious time.
Pros and Cons of Spoke
Pros-
Create videos by highlighting text.
Add notes to any video while recording it.
Echo cancellation.
Share the videos with a single link.
Personalized vocabulary and advanced punctuation.
Automatic transcription.
Zoom integration.
Smooth user interference.
Powerful search engine.
Multi-lingual.
Cons-
There are some minor bugs.
Doesn't have a paragraph feature which would be a great help for longer comments.
Online reports are quite rigid and it would have been perfect for it to be a little simpler.
The Review

Spoke

PROS
Create videos by highlighting text.
Add notes to any video while recording it.
Echo cancellation.
Share the videos with a single link.
Zoom integration.
Automatic transcription.
Personalized vocabulary and advanced punctuation.
CONS
Online reports are quite rigid and it would have been perfect for it to be a little simpler.
Review Breakdown
Easy to Use


0%

Features


0%

Support


0%

Documentation


0%

Value for money


0%