Dinosaur parties have been such a popular birthday theme since prehistoric times (pun)! But how to find out what ideas to use for your party? No need to worry, we have sifted through hundreds of sites and ideas and collected some of the top party ideas for you. Party planning could not have been easier! Take a look at these fun ideas!For party supplies resources: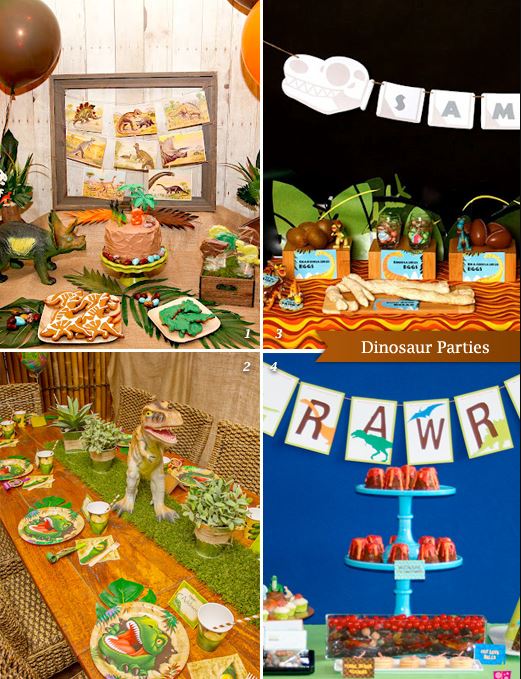 Dinosaur Party Plan:
Dinosaur Party Invitations:
Some creative dinosaur themed party invitations:
Dinosaur Skeleton with Invitation Tag.  Nothing is more fun than receiving a boxed invitation! Send a toy dinosaur skeleton on a bed of green shredded paper with a smart looking invitation tag.  Add a matching dinosaur stamp to match, tied with twine!
Colorful DIY invitation with clip art.  Fun colorful invitation created by turtlecraftygirl.blogspot.com!  This is a fantastic idea especially if your birthday child is old enough to help pick the images, or even help navigate the mouse on the computer to create the invitation themselves!  A great way for kids to get involved in the party planning process from the beginning.
Dig up the details Dinosaur Invitation.  Attach messages to several plastic bones and place into a box of dirt and let invitees dig up the message!  Once all the bones have been dug up, piece together the message and find out more about party details!
Indiana Jones Personal Letter Invitation.   Send a mock letter from Dr. Jones (Indiana Jones) to all invitees with a ticket to the Natural History Museum.
Guest Arrival and Introduction
Get guests in the party mood even before they enter the door!  Here are some fun ideas for your entrance and activities for guests when they arrive:
Dinosaur Foot Prints.  Have dinosaur foot prints lead from the outside of the house to the front door.
Giant Eggs and Dinosaur.  Lead the footprints to the front door where a giant dinosaur is guarding its eggs on a nest.  If you have an mp3 sound of a dinosaur, put it on autoplay so when guests arrive they are greeted with a Roaarr!!
Dress Up Photo booth.  As guests enter, give them some props to put on and snap a few fun pictures for favors or for thank you notes later.
Dinosaur Button. Pin a button on each guest and welcome them to the party!
Dinosaur Poster and Craft.  Have guests sign the Welcome Sign and keep kids busy with a simple coloring craft as they wait for others to arrive.
Dinosaur Party Decorations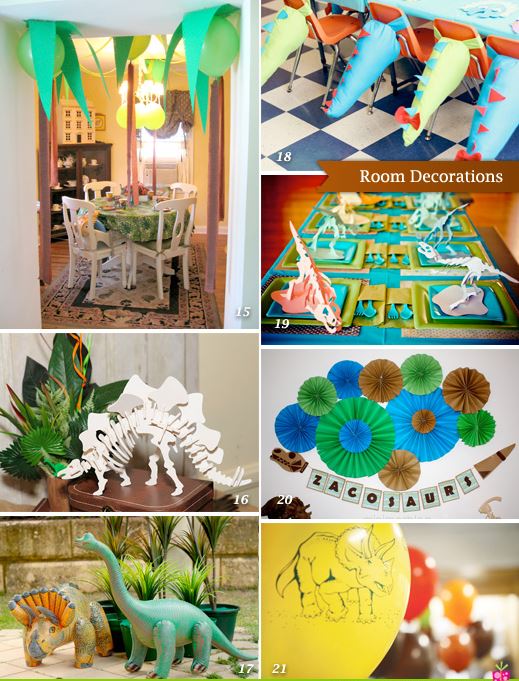 For party decorations and colors (and assuming the party is for a boy), stick with earth tone colors like greens, browns, blues, etc.  Use burlap fabric and greenery to bring out the natural elements in your party room.
Easy Jungle Decorations.  Love these simple decorations with paper, streamers and balloons!  Simple, yet effective.  Use large green paper to make the leaves of a palm tree, green balloons for coconut (or could be brown) and brown streamers hanging down as the tree trunk!
Wooden Dinosaur Skeleton Decorations.  Use dinosaur wooden puzzles as party decorations.  It's a great decor item and kids can use the puzzle before and after the party.
Giant Blow Up Dinosaurs.  If you are able to get a hold of these giant dinosaurs, place them in strategic areas as party decor or photo ops.  Since they are so large, they instantly transform the party atmosphere and makes it come alive!
Fun Chair Tails.  Love these adorable stuffed dino-tails that are attached to the chairs!  After cake and ice cream, detach and let kids wear their own tails!  How bout a little freeze dance (or dino freeze)?
Origami Dinosaurs.  Set up your party table and add these adorable origami dinosaurs as party decoration!  It may take a bit of folding knowledge but what a great and affordable idea!  Teach kids to fold their own or have adults help in the process! Photo credit: here and for origami folding dinosaur instructions download below.
Wall Decorations.  Love the dinosaur decorations on the wall created partially by a paper dinosaur and circular paper fans.  Love the way a fictional dinosaur name was created for the birthday boy – "Zacosaurs"!
Dinosaur Balloons. Look at these cool dinosaur balloons!  Love them!  No party should be without balloons and these are super adorable with the dinosaurs imprinted on them!
Dinosaur Party Crafts
Dinosaur Egg Match.  Got Easter eggs leftover?  Great!  Use them as part of a craft/game where kids have to find one egg and try to color in the colors of their egg.  Once they have completed this task they can open their egg!
Dinosaur Imprint Necklace. Let kids create their own fossil necklace.  Use no-bake clay and imprint a dinosaur shape or footprint on it.  Use black or leather cord to add other beads and then tie off in the back.  Makes a great party favor!
DIY Pinata.  A pinata is fun and always a favorite.  You can also make your own ahead of time with paper mache.  This one was created by plastering a balloon with paper mache and left plain. Cut open from the bottom and fill with the usual candy and trinkets.  Close off with more paper mache.  However, leave the decorating and painting of it to the very end, on the day of the party so all the kids can join in and help.  It could be a fun or messy experience for all (depending on the age of the kids).
Dinosaur Bingo.  A picture bingo game is great for all ages and fun.  Use small rocks, rock candy, plastic bones, or other small objects as your place markers.  Make sure to give out small prizes for the winner.
Dinosaur Party Food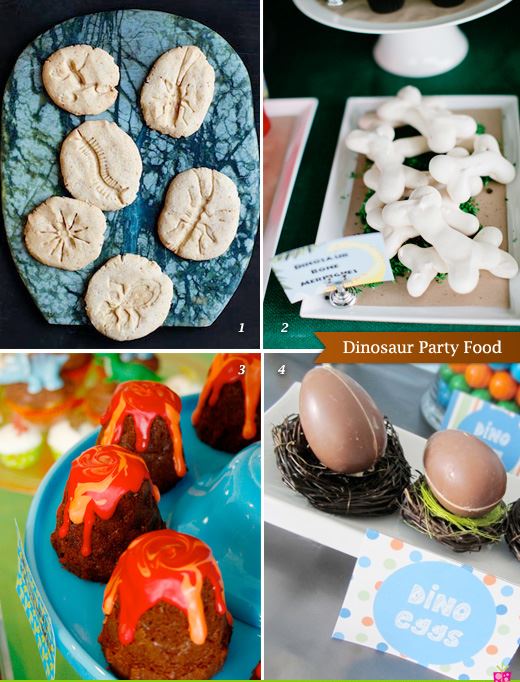 Fossil Cookies.  Love this idea!  Make your favorite cookie using your cookie recipe.  Before you stick a batch in the oven, push down a clean and dried plastic dinosaur into the dough to create the imprint.  Bake according to your usual directions!
Meringue Bone Cookies.  Shape meringue batter into the shape of dinosaur bones.  Bake and serve.
Molten Lava Mini Cakes.  Make small size Bundt chocolate cakes.  Let cool and top with red melted candy melts.
Dinosaur eggs.  Save large Easter eggs leftover from Easter and place on top of small nests.  Place the eggs on the table as part of the decor or let kids take home their own "egg" as favors.
Lime Jungle Slime – Lime jello served in adorable glass retro cups tied with raffia ribbon with a wooden bamboo spoon, ready to serve!  Another clever one by Cupcake Couture
Dinosaur Cup of Dirt – Individual cups of layers of brownie, treats and icing.  Wouldn't it be cute to find spoons that resemble a mini shovel?
Dinosaur Kebab – Sour strips of candy on skewers topped with dinosaur gummy candy.  Ahhh, a kids idea of "heaven on a stick"!  Love the candy holder as well!  A simple tree trunk with holes drilled into it.  Stand the skewers up in the holes and place at the party table.
Trifle Earth Layers topped with Hot Lava – Isn't this one cool?  Another creative idea by Wants and Wishes Design.  In a large rectangular glass container, layer crushed Oreo cookies, chocolate cake, gummy worms, candy rocks, and if you wish, a few layers of brown sugar (sand).  Top with red hot candy, like Red Hots, for lava.
Dinosaur Party Drinks:
Active Volcano Punch – Make your favorite float punch recipe in a large container and let it fizz and bubble up before the guests.  Hear the excitement of the kids as the drinks starts to fizzle up!
Dinosaur Ice Cubes – Love this cool idea!  Freeze your clean miniature dinosaur toys or bugs in trays of apple juice (to get that aged color) or favorite drink.  Place out for decorations or float in drinks.  Just make sure this is not given to the teenie little ones.
Prehistoric Water – Label your water bottles with fun labels like "Prehistoric Waters, water fresh from the pre-ice age", "Lava Juice", "Dinosaur Pee", etc.  These water labels –
Dinosaur Drinks – Label your juice bottles with fun dinosaur labels!
Dinosaur Cookies and Cupcakes:
Brontosaurus Cookies – Lovely dinosaur cookies in bright blue icing topped with colorful M&M candy.
Dinosaur Cupcake Toppers – Love these adorable mini cupcakes with green grass wrappers, topped with small rock candy and a dinosaur cut-out topper!  Too cute and festive!
Tyrannosaurus Cookies – Take a bite out of these fierce Tyrex sugar cookies! Incredible detail and gorgeous cookies
Dinosaurs Fondant Cupcake Toppers – Love the colors and various designs of these cheerful fondant toppers!
Dinosaur Party Cakes and Desserts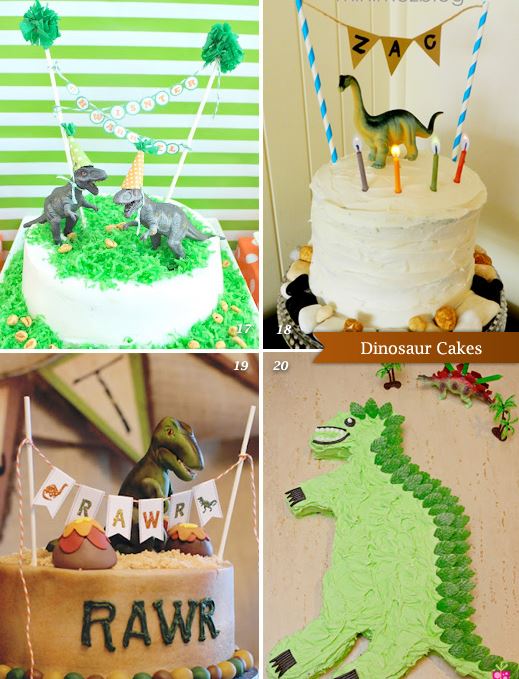 Some of the cakes we loved were easy to make and some were ultra elaborate that were made by professional bakers.  If you have limited resources, a plain cake with couple of toy dinosaurs and a simple paper miniature party banner are easy ideas.  If you have a baker or cake decorator make your cake, check out this fondant dinosaur complete with fondant rocks!
Dinosaur Toys.  Top a plain cake with two fun dinosaurs, a festive banner and use green coconut as the grass.
Tall Dinosaur Cake.  Stack two large 8″ cakes on top of each other to create an ultra tall cake.  Again, use a simple plastic dinosaur toy as the centerpiece, with miniature banner.  Make sure to wash the toys well before placing on the cakes.
Elaborate Fondant Dinosaur cake.  A fun cake made out of fondant complete with fondant dinosaur.  Which kid wouldn't love this one?
Dinosaur shaped cake.  Create your own and have fun with the kids.  Use as much candy as you can for the various parts and to add a fun element to your cake.  Kids love that!
Dinosaur Party Games and Activities
Dinosaur Dig.  Fill a shallow large bucket with sand and bury small dinosaur toys, eggs, bones, etc. for kids to find.
Make your own Binoculars.  Now you have something to do with those empty paper towel rolls! Have kids decorate and make their own pretend binoculars!
Pin The Head on Dino.  The all-time classic and favorite.  The reason it's so popular is because it's a game that is easy to play and great for all ages!
Pass The Parcel.  Another classic but with lots of surprises.  Read full descriptions and game play on the Dinosaur games page.  Pass around the parcel and let kids unwrap the mysterious egg every round!
Dinosaur Party Favors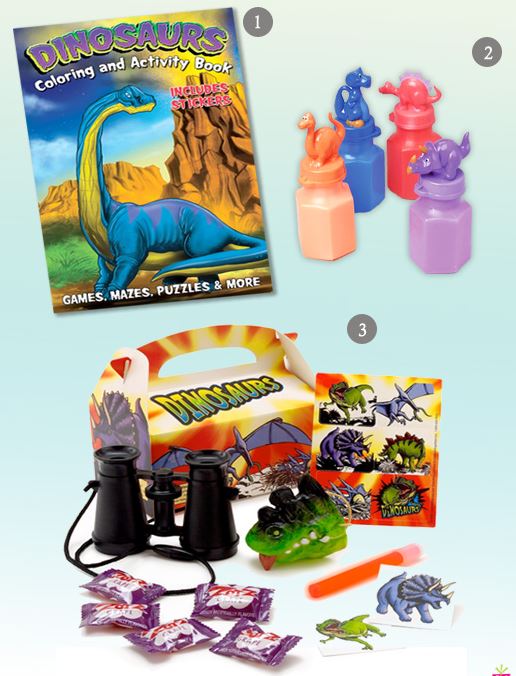 Bubbles.  Bubbles are fun for all age groups.  These adorable bottles have dino heads on them and would make a great favor for a dinosaur party.
Dinosaur Party Favor Kit.  This kit comes with everything you need!  No need to scout around and find all the individual items!  The favor kit comes with dinosaur stickers, binoculars, dinosaur nose, candy, glow stick and two tattoos.
Dinosaur Activity Book and Crayons.  This dinosaur book comes with crayons for hours of entertainment after the party is over.  Great learning fun that lasts!